How to become a Millionaire in the Philippines in 5 Years? Can a Taho vendor become a millionaire in just saving P2000 periodically? Can a regular employee who earns 10,000 to 15,000 a month become a millionaire in 10 years? Can you earn 5 million pesos in 5 years? The answer to each question is YES. Take note networking and is not involved on this. I'm gonna share about becoming a millionaire here by investing in stocks using the Peso-Cost-Averaging method. There are other ways to earn millions but I'm NOT gonna talk about the 'others' here.
How to become a millionaire in the stock market?
Why invest in stocks?
Yes, invest not trade. There's a difference between the two. I'm talking about investing in stocks for a long term here. Like 10 years or more. Trade is buying and selling stocks in a day or few. Investing involves long term. If you will be investing in stocks every month for let's say 10 years, you'll surely accumulate millions of pesos because your fund will grow through capital appreciation and dividends.
Time is Money
To understand it better, imagine you have an apple seed and you will plant it now. After many years, the seed will become a tree and will bear fruits. It will extend more branches and bear more fruits year by year. Soon you can have thousand of apple trees. Imagine the profit you have earned after few years. Time is money.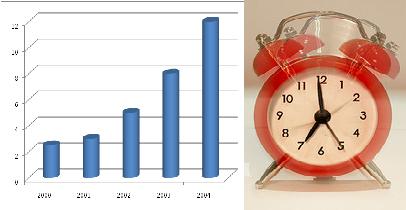 To understand it more, speaking of Apple, do you know the traded stock price per share of Apple before iphone came along on June 2007? It was trading around $200. In March 2013 it was trading around $444 and it was even trading around $700 at some point in September 2012. If you had hundreds of share and you do the math, you gained so much.
To get it even better, for example you became one of the major stockholders of Jollibee and owns now 10% of capital and Jollibee was worth 2 billion that time. After 10 years, it expanded globally and now worth 20 billion. Hey, remember you own 10%?  That's 2 billion now. That's just an example. See the stock chart of JFC (Jollibee Foods Corporation) below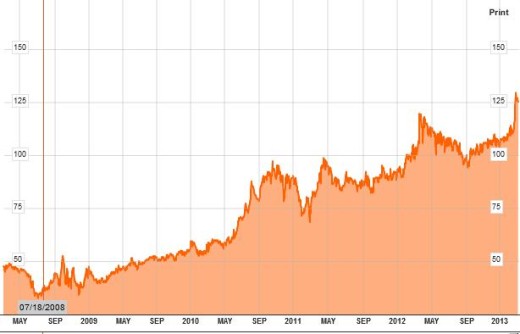 JFC Stock Chart (5 Years) taken from Bloomberg
Ok, I'm just trying to make a point there. Time is the most precious asset and choosing the right company to invest with is so important to earn profit in the future. Don't just invest, be part of a huge company which will obviously be here after 10 years or more.
Another example why time is money: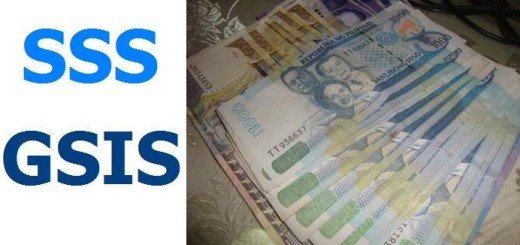 Why do we contribute to the SSS or GSIS every month? Simply because to have a generous retirement fund in the future. The more years of contributions, the more our pension would accumulate. It's kinda same thing with investment earnings through compound interest. As Einstein said,
Compound interest is the greatest mathematical discovery of all time."
In pension, age is a big factor because your pension will be computed based on your CYS (creditable year of service) and some other factors like monthly salary or contributions.
So time value of money makes sense there right? The earlier you started investing, the more you will receive in the future. If you still can't understand it, I suggest have a short break and indulge with Jollibee hot-fudge sundae. It makes my brain work well…perhaps it could do the same somehow. Besides, I have stocks at Jollibee (smiles).
Why Peso-Cost-Averaging?
Because you don't have to monitor the market constantly and you're not an expert
Because it's not too risky
Because reality is – trading in the stock market is dangerous. One day, economic growth could be amazing; the other day there could be crisis. In order to avoid losing your money and risking it, choose investing in stocks by using the Money-Cost-Averaging method. We call it peso-cost-averaging here since peso is our currency.
Peso-Cost-Averaging method involves investing a fixed amount of money at regular intervals over a long period of time. Example, you set aside a portion of your income, let's say P5000 every month in a period of 10 years. You use that P5000 to buy stocks from a certain company that you believe will still be performing well after so many years. Companies like:
Ayala Land, Inc.
SM Prime Holdings, Inc.
Jollibee
PLDT (TEL)
BDO
and many more. Choosing the right company is so important. Make sure you practice buying your stocks regularly from the chosen company regardless of the stock price. Choosing the right company will give you high returns in the future.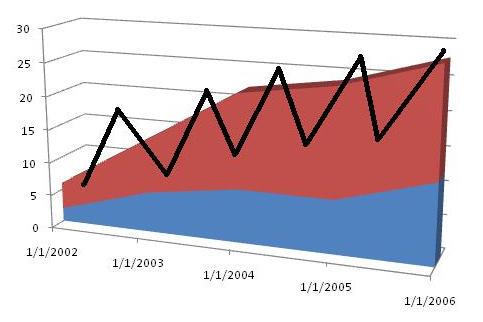 This graph demonstrates how peso cost averaging works. Whatever the status of the economy, whether stocks price are high or low, buy still and keep practicing the PCA, you will profit anyway.
2 Ways to Invest in Stocks using the Peso-cost-averaging Method
Nowadays, we don't have to call someone to invest or buy stocks from companies participating at the Philippine Stock Exchange. We can do everything online. Just choose your Online Broker and open an account with them. It's so easy and much convenient. See the accredited online brokers in this page. BPI Trade and COL Financial are one of the well known online brokers. Personally, I follow the stocks from DailyPik coz I find them so effective and profitable. You can also choose brokers' Easy Investment Programs that use Peso Cost Averaging or if you want, just open an account and practice the method yourself.
Via UITF Equity Fund or Mutual Fund in Equity
Some banks like BDO offer Easy Investment Plan through UITF Equity Fund. That kind of UITF involves stocks. With this route, your investment is handled by a fund manager which monitors everything. They are experts and professional fund manager meaning they are already familiar with the economy and the market.  They have their smart strategies for good results. Holding companies are also very good. You can always see your Equity Fund Performance Report every quarter anytime.
Mutual Fund in Equity is also another way to invest in stocks as it also focus on stocks. Know more how to invest in mutual funds in the Philippines.
Now answering the questions one by one:
Can a Taho vendor become a millionaire in just saving P2000?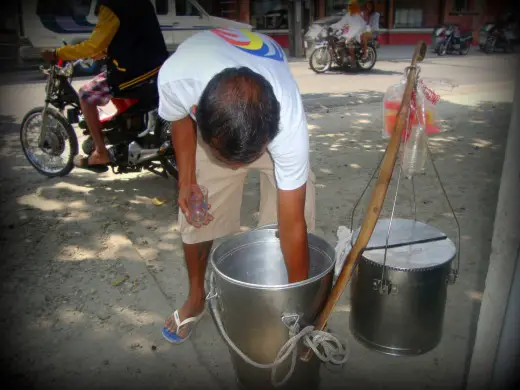 Let's say a Taho seller earns P300 a day and he works 26 days a month. That will give him 7,800 a month. And he may have a family to feed and support so let's say he could just save 2,000 a month. If he could invest his 6,000 every 3 months regularly for 20 years, our Taho seller can surely have approximately 5 million or less. Since some online brokers require minimum of 5,000, he could just invest 6,000 in the stock market every 3 months and practice that up to 20 years. So the answer is YES. If you don't believe me, you better read Bo Sanchez and learn the ways how her maids invest in the stock market.
Can a regular employee who earns 10,000 to 15,000 a month become a millionaire in 10 years?
Let's say your salary ranges from 10,000 to 15,000 a month. You less your expenses, maybe 5,000 will remain. If you are a shopaholic, please stop reading this. If you love buying the latest gadgets and just earn this salary range, please forget about this. If you are not really serious in saving money and are not disciplined enough, just try something else.
Literally, 5,000 a month for 10 years would give you 600,000 if you save them on hand. If you save them in a bank, they would earn interest but that is not much. If you want to earn millions out of it, invest your 5000 a month in the stock market. If the Taho vendor earned less than 5 million from his investment, what more you? 🙂 So the answer is YES. Take note, time is money. If you want to earn more millions, extend your target period from 10 years to 15 years or more. How to become a millionaire starts with your mindset.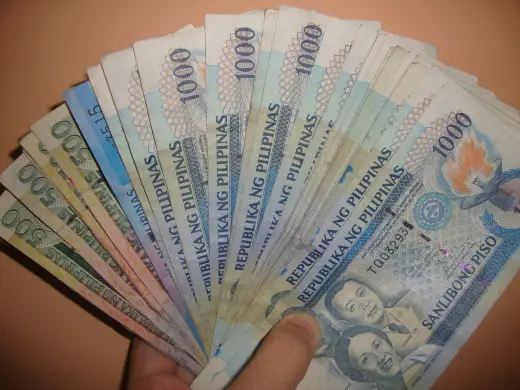 Can you earn 5 million pesos in 5 years?
I assume now you know the concept of this thread. I assume you are not a Taho vendor and you are earning more or double or triple of those salary ranges discussed before. Maybe you are an OFW so your salary when converted to pesos will amount to hundred of thousand every month. 5 million pesos in 5 years is so possible for you then.
If you will still try the PCA method 40,000 every month for 5 years could give you close amount to 5 million. But then again, I expect you are earning more than the average bracket mentioned before so hey, I'm sure you know other channels on how to get your millions in just a short time – not just thru stocks but also thru business, interest income, trust funds and other vehicles.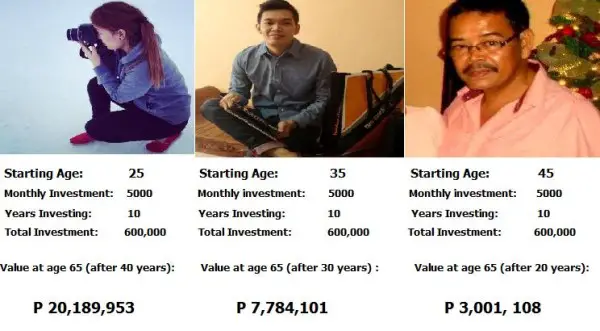 Assuming the examples above grow by 10% per year. This is only an example.
How to become a millionaire in the Philippines in one year?
How to become a millionaire in one year? That question is easy for you to answer now.
Conclusions:
The earlier you invest, the more money you will earn in the long run
Time is gold and time is money.
The key to Peso Cost Averaging technique is choosing the right company where you will buy stocks, choosing to invest long term and following your chosen time and amount to invest regularly.
Remember, money is not everything. There are far more important things than money – love, friendship, health and faith in God. Have all of them and you would be happy a billion ways." – Fehl

Want to start investing in the stock market? Go to our "Stock Market Tutorials and Complete Guide" page.