Many readers requested an easy and complete guide on how to invest, buy, sell and trade stocks in the Philippines so I am sharing this page for all of you. I recommend you read this post completely, if not you can leave right now and be on Facebook perhaps and make Mark Zuckerberg richer. If you proceed, congrats because you now have one of the major things a good investor must have – willingness to learn.
Who knows after reading all of this, you decide to buy your first stocks of Facebook, or Google or Apple. Yay, that sounds so nice isn't it? Being a stockholder of those big companies.
Truth is you can but I suggest you start from your dear home, the Philippines. Invest stocks in the Philippines. Because it's where you live and you are familiar with the companies already. You can easily monitor what's going on with the economy. Just jump the boat of international trading once you learned the ways. Investing is a serious business.
Speaking of the Philippine Stock Market, not everyone knows that it is one of the oldest stock market in Asia Pacific. What does it say about us? It means our country had an active stock exchange even when other countries in Asia were just starting to boom. It means we must be proud of it and take time to participate. It's here and has been here all along.
Why invest in stocks?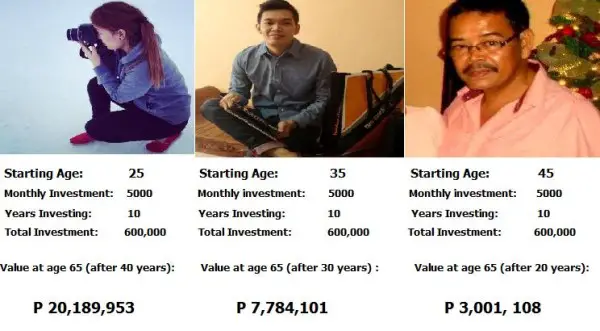 Why should we invest in stocks? Simply because your stock investment could give you bigger return than regular bank products like savings and deposit accounts. Geez, do you know the interest rate for savings account here in the Philippines? It is .10% as of today 2019. Don't forget they are subject to 20% Withholding Tax.
Technically your stock investment could give you 50% or more in a blink of an eye. Yes, technically it could make anyone a millionaire in a moment especially if his stocks value climbed the Mt. Everest. You know what I mean.
What would I earn from investing in the stock market?
Money – it depends upon your investment, the value of the stocks you hold and the value when you sell them. You also earn from cash dividends. Choosing the right company to invest with is vital to earn thousands, hundred thousand, millions or billions.
Self-worth – if you became a stockholder, that means you are part of the 1% of the population of Filipinos who participate in the stock market trading. It gives pride and self-confidence too. It also means you are not afraid of risk. Life is short, "if you don't take risk, you'll be a wasted soul."
Skills and knowledge – being a stockholder also means you are financially literate. In trading, you'll learn more about the stock market, the economy status, financial and corporate aspects, top performing companies, profit and loss.
You earn a part of a company –if you have stocks of a company, you are part of it. Even if it's just small amount, technically you can call yourself a stockholder. Stocks are shares of ownership of a corporation. If you became a Major Stockholder, you can be in the corporate or board room. Know what I'm saying?
Requirements in Investing Stocks in the Philippines
It doesn't require you to be rich or poor though it requires you to be wise. Before you invest stocks in the Philippines, you must have these 5 things:
Knowledge – you must have basic knowledge and understanding about the stock market, how things work, how to buy and sell stocks, when is the best time to buy is and sell stocks, what are the top performing companies, what is the latest trend, how is the economy, what is technical analysis, etc. – in short, you must know the Market.
The market is the arena and you need to get to know the arena and the players. Some serious investors attend seminars just to learn more about investing in the stock exchange. There are free seminars offered by brokerage firms and the PSE Academy. If you don't find seminars in your place, no worries because you can still learn by watching webinars, and reading pages like this in Philpad's Money section.
Time – how much of your time can you invest with this? In trading, you need to monitor the economy and the business world to know when to buy and sell your stocks. Usually traders have target time when to sell what they hold. Those who can't monitor the market all the time, they choose to invest periodically and use the Peso Cost Averaging Method instead or just rely on their stock broker's advice.
Money – you can use your money sleeping in your savings account or you can invest a part of your regular income monthly buying stocks. The minimum amount to open an online trading account is P5000. You can invest that amount or more monthly or periodically if you want.
You, as an investor – are you an aggressive or passive or conservative type of investor? Assess yourself. If you don't know about yourself, your capacity and ability to take risk, then don't put your eggs in the basket yet. Are you investing for a long-term or short term?
Risk tolerance – investing in the stock market may sound so scary especially to beginners. Don't be afraid. Just think of the reasons why rich people become richer… Investing may be risky and may incur profit and loss. You can avoid loss if you focus in investing on the well proven companies which will stay here no matter what. Long term investing using the Peso Cost Averaging method is well proven.
How to invest in the stock market in the Philippines?
If you find yourself ready, then you must:
Find a Stock Broker – you must have a stock broker to deal with when you buy and sell stocks. We have the list of Best Stock Brokers in the Philippines here. You can either have one personally or have an online account. Find the list of licensed stock brokers from the PSE by calling them. I recommend doing the second option which is opening an online account from the accredited online trading brokers in the Philippines. Minimum fund is P5000. It is like opening a bank account so the requirements are the same – valid IDs, specimen signature, and the application form they will provide. Once you have an active stock trading account you are a stock investor then and you can start buying your stocks and selling them when you want.
Invest – invest in a company that is performing well. If you are very risky, you can surf the waves of the stock market. Different investors have different strategies. You'll discover yours eventually. There are those who buy in a day and sell the same day. Like I said, as an investor you must have your target time and target stock value. Don't be too greedy.
I consider it a smart way to use the Peso-Cost-Averaging Method and follow DailyPik's stocks wherein you buy stocks from a Blue-chip company (top performing company) periodically (eg: monthly) for a continuous time and maintain them for a long-term, like 5 years or more. After that, see how much you gained. 🙂 Read our post about "How to be a Millionaire in the Philippines in 5 Years."
Top performing companies I recommend to invest with
Ayala Land (ALI)
Banco de Oro (BDO)
Jollibee (JFC)
Ayala Corp (AC)
SM Investments (SM)
SM Prime Holdings (SMPH)
There are more on the list…
*These are well known and well-proven companies but historical standing and data do not guarantee returns*
Secrets of Successful Stock Investing
Invest early because time is money.
Invest regularly. Investing stocks regularly from a well performing company is proven profitable even if stock prices go up and down.
Invest long term. Like I said, time is money. Money and capital yield higher after many years.
Diversify your money. Build your wealth by putting your fund to different stock investment wheels like Mutual Fund in Equity and Trust Fund in Equity.
Thank God and share your blessings to your loved ones. What is a blessing after all if left unshared.
How to buy and Sell Stocks?
Choosing the online way of trading, buying and selling is so easy. You can buy or sell in your fingertips. You don't need to call a broker. Just have your active stock trading account online and you can see your portfolio anytime. You can even see financial news and updates, view watchlists and live graphs. You can view your account, see stock quotes, stock positions with current market value. Trading hours starts from 9:30am to 3:30pm Philippine Time. You can withdraw proceeds or fund your account online too if your bank account has an active online banking feature. Online trading account by the way charge nominal fees like commission fees, transaction fees, VAT and other little fees. You'll know these in the FAQS or Terms of your online broker.
Buying Stocks Online in the Philippines
Remember trading hours in the Philippines starts from 9:30am to 3:30pm. In this screenshot, as an example, I used one of the most reliable and trusted Online Trading platform in the Philippines, COL Financial (formerly known as CitisecOnline). Log in to your account and go over Trade, then tap the Buy button. Assuming you are buying shares of stocks from Jollibee Foods Corporation, type JFC beside stock code and press Quote, Main Board will display details about JFC. Focus on the Main Board and you'll see columns for Bid and Ask. Bid details are in green, while Ask details are in red. Since you are a buyer, you'll focus on the Ask section. Ask section displays the stock prices being asked/offered by stocks sellers. You'll see too how many are selling. In the example, I chose to buy the middle offer (price of 151.10 per share). So type that price on your Oder Details. Type how many shares you want to purchase too. If you are under or over the allowed limit, a tab will appear. Otherwise, you may proceed. Preview your order then confirm to buy.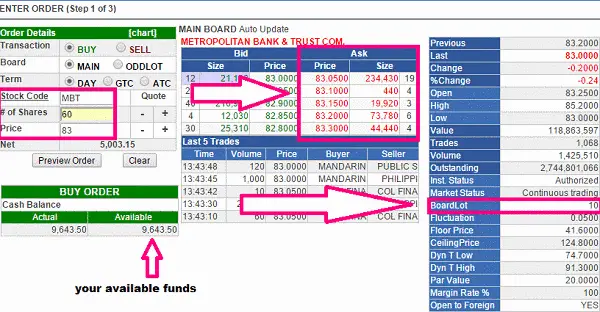 Selling Stocks Online in the Philippines
On the other hand, you have to select Sell button to sell your stocks. Assuming you have stocks in BDO and you decided to sell them when the price went 30% up, in the screenshot, it's the same as our example above but this time, focus on the Bid column since they display the buyer's bid info. Type the number of shares you wish to sell and the price you choose from the bid (usually you'll choose the highest bid price). Preview your order and confirm it.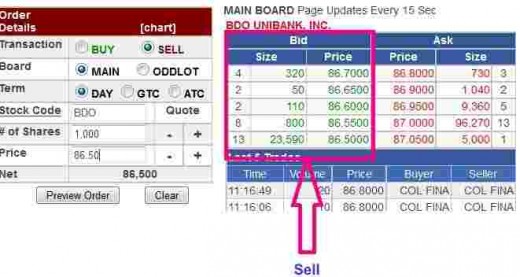 Read more by going to "How to Buy, Sell, Trade Stocks in the Philippine Stocks Exchange and Market"
Online Trading Trial for Beginners
Wanna try the online trading? No worries, you can test-drive by just opening a demo account. A trial account is usually valid for 7 days. You can practice trading yourself before the real thing. You can also see the trading platform services and features your Online Broker offers. First, choose which online trading broker you want to use. See the list of online trading brokers accredited by the Philippine Stock Exchange here. All of this websites are secure.
I'll be posting more investing and trading guides soon. Geez this is already almost 2000 words. So let's discuss some more topics soon. Congrats for having an interest on how to invest stocks in the Philippines. Cheers!
My Quote for today:
Wise people buy Apple gadgets…wiser people buy Apple shares… wisest people do both."
Are you ready to learn more about investing? Read our related articles below. Cheers!
© Copyright Fehl Dungo