Estimated reading time: 2 minutes
Want to know your Revenue District Office Code? Here are the complete and updated Lists of BIR RDO Codes in the Philippines in 2023 taken from the Bureau of Internal Revenue.
All taxpayers, businesses and corporations must know their own RDO because it is important to know where your tax record is registered. Every taxpayer or business is assigned to a specific sector called Revenue District Office.
The BIR (Bureau of Internal Revenue) has a list of RDO Codes in the Philippines to help in monitoring, processing and auditing of tax payments, tax returns, withholding taxes, and other tax accounts.
Taxation is a big power of the government so generating the government revenue from taxes is important. Using RDO codes is significant in the computation of taxes collected across the Philippines.
How to Use BIR RDO Code

?

We need to include the correct RDO code in any BIR form we use. The RDO section in every BIR form has three boxes. You fill in the correct code associated with your revenue district office which you can find on the list below.
How to Know your RDO?
Your RDO (Revenue District Office) is the district in a region where you are presently registered as a taxpayer. If you are working in Makati for example, you must know which RDO in Makati you need to file. If you are transferred to another company or place, you must also transfer to another RDO that your new company is under jurisdiction with.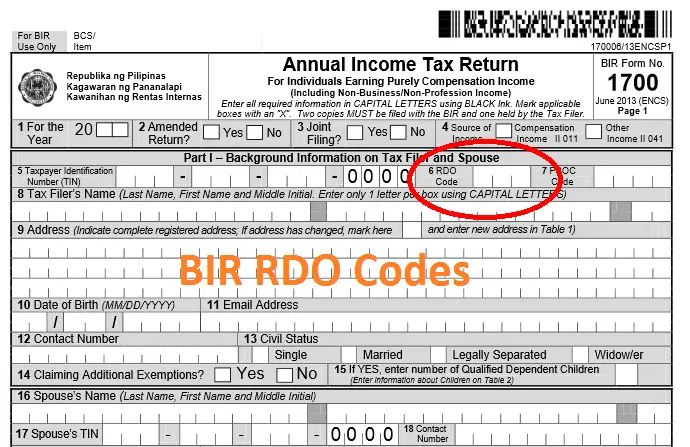 Updated BIR RDO Codes 20

23
| Revenue Region | RDO Code | District Office |
| --- | --- | --- |
| 1 - Calasiao | 001 | Laoag, Ilocos Norte |
| | 002 | Vigan, Ilocos Sur |
| | 003 | San Fernando City, La Union |
| | 004 | Calasiao, Central Pangasinan |
| | 005 | Alaminos City, West Pangasinan |
| | 006 | Urdaneta City, East Pangasinan |
| 2 - Cordillera Administrative Region | 007 | Bangued, Abra |
| | 008 | Baguio City |
| | 009 | La Trinidad, Benguet |
| | 010 | Bontoc, Mt. Province |
| | 011 | Tabuk City, Kalinga |
| | 012 | Lagawe, Ifugao |
| 3 - Tuguegarao City | 013 | Tuguegarao City, Cagayan |
| | 014 | Bayombong, Nueva Vizcaya |
| | 015 | Naguilan, Isabela |
| | 016 | Cabarroguis, Quirino |
| 4 - City of San Fernando, Pampanga | 17A | Tarlac City, Tarlac |
| | 17B | Paniqui, Tarlac |
| | 018 | Olongapo City, Zambales |
| | 019 | Subic Bay Freeport Zone |
| | 020 | Balanga City, Bataan |
| | 21A | Angeles City, North Pampanga |
| | 21B | City of San Fernando, South Pampanga |
| | 21C | Clark Freeport Zone |
| | 022 | Baler, Aurora |
| | 23A | Talavera, North Nueva Ecija |
| | 23B | Cabanatuan City, South Nueva Ecija |
| 5 - Caloocan City | 024 | Valenzuela City |
| | 25A | West Bulacan |
| | 25B | East Bulacan |
| | 026 | Malabon City-Navotas |
| | 027 | Caloocan City |
| 6 - City of Manila | 029 | Tondo-San Nicolas |
| | 030 | Binondo |
| | 031 | Sta. Cruz |
| | 032 | Quiapo-Sampaloc-Sta. Mesa-San Miguel |
| | 033 | Intramuros-Ermita-Malate |
| | 034 | Paco-Pandacan-Sta. Ana-San Andres |
| | 036 | Puerto Princesa City, Palawan |
| 7A - Quezon City | 028 | Novaliches |
| | 038 | North Quezon City |
| | 039 | South Quezon City |
| | 040 | Cubao |
| 7B - East NCR | 041 | Mandaluyong City |
| | 042 | San Juan |
| | 043 | Pasig |
| | 045 | Marikina |
| | 046 | Cainta/Taytay |
| 8A - Makati City | 047 | East Makati |
| | 048 | West Makati |
| | 049 | North Makati |
| | 050 | South Makati |
| 8B - South NCR | 044 | Taguig City-Pateros |
| | 051 | Pasay City |
| | 052 | Paranaque City |
| | 53A | Las Pinas City |
| | 53B | Muntinlupa City |
| 9A - CABAMIRO (Cavite-Batangas-Mindoro-Romblon) | 035 | Odiongan, Romblon |
| | 037 | San Jose, Occidental Mindoro |
| | 54A | Trece Martirez City, East Cavite |
| | 54B | Kawit, West Cavite |
| | 058 | Batangas City, West Batangas |
| | 059 | Lipa City, East Batangas |
| | 063 | Calapan, Oriental Mindoro |
| 9B - LAQUEMAR (Laguna-Quezon-Marinduque) | 055 | San Pablo City, East Laguna |
| | 056 | Calamba City, Central Laguna |
| | 057 | Binan City, West Laguna |
| | 060 | Lucena City, North Quezon |
| | 061 | Gumaca, South Quezon |
| | 062 | Boac, Marinduque |
| 10 - Legazpi City | 064 | Talisay, Camarines Norte |
| | 065 | Naga City, Camarines Sur |
| | 066 | Iriga City, Camarines Sur |
| | 067 | Legazpi City, Albay |
| | 068 | Sorsogon City, Sorsogon |
| | 069 | Virac, Catanduanes |
| | 070 | Masbate City, Masbate |
| 11 - Iloilo City | 071 | Kalibo, Aklan |
| | 072 | Roxas City, Capiz |
| | 073 | San Jose, Antique |
| | 074 | Iloilo City, Iloilo |
| | 075 | Zarraga, Iloilo |
| 12 - Bacolod City | 076 | Victorias City, Negros Occidental |
| | 077 | Bacolod City, Negros Occidental |
| | 078 | Binalbagan, Negros Occidental |
| | 079 | Dumaguete City, Negros Oriental |
| 13 - Cebu City | 080 | Mandaue City, Cebu |
| | 081 | Cebu City North |
| | 082 | Cebu City South |
| | 083 | Talisay City, Cebu |
| | 084 | Tagbilaran City, Bohol |
| 14 - Eastern Visayas Region | 085 | Catarman, Northern Samar |
| | 086 | Borongan City, Eastern Samar |
| | 087 | Calbayog City, Samar |
| | 088 | Tacloban City, Leyte |
| | 089 | Ormoc City, Leyte |
| | 090 | Maasin City, Southern Leyte |
| 15 - Zamboanga City | 091 | Dipolog City, Zamboanga del Norte |
| | 092 | Pagadian City, Zamboanga del Sur |
| | 93A | Zamboanga City, Zamboanga del Sur |
| | 93B | Ipil, Zamboanga Sibugay |
| | 094 | Isabela City, Basilan |
| | 095 | Jolo, Sulu |
| | 096 | Bongao, Tawi-Tawi |
| 16 - Cagayan de Oro City | 097 | Gingoog City, Misamis Oriental |
| | 098 | Cagayan de Oro City, Misamis Oriental |
| | 099 | Malaybalay City, Bukidnon |
| | 100 | Ozamis City, Misamis Occidental |
| | 101 | Iligan City, Lanao del Norte |
| | 102 | Marawi City, Lanao del Sur |
| 17 - Butuan City | 103 | Butuan City, Agusan del Norte |
| | 104 | Bayugan City, Agusan del Sur |
| | 105 | Surigao City, Surigao del Norte |
| | 106 | Tandag City, Surigao del Sur |
| 18 - Koronadal City | 107 | Cotabato City, Maguindanao |
| | 108 | Kidapawan, North Cotabato |
| | 109 | Tacurong, Sultan Kudarat |
| | 110 | General Santos City, South Cotabato |
| | 111 | Koronadal City, South Cotabato |
| 19 - Davao City | 112 | Tagum City, Davao del Norte |
| | 113A | West Davao City |
| | 113B | East Davao City |
| | 114 | Mati City, Davao Oriental |
| | 115 | Digos City, Davao del Sur |
BIR Filing Guides:
These guides are helpful for your taxation needs