Are you looking for a cabin crew hiring in the Philippines in 2022? Check out this page. We listed the latest cabin crew and flight attendant jobs hiring in the Philippines right now. Fly and soar high! Apply!
Flight attendant jobs are very rewarding, especially for those people who love traveling to different places and countries. Being a cabin crew also includes generous salaries and incredible benefits.
If you wish to become a cabin crew, you must prepare yourself to comply with the requirements needed by airline companies. You also must attend and apply to every recruitment they schedule to make your dreams come true.
Airlines always schedule their flight attendant job recruitment twice or once a year. Hundreds, if not thousands, of applicants, usually want to grab the job. You should not make that truth worry you because every applicant is not the same.
Airline companies generally look for applicants with pleasing personalities, confidence, great smile, and lovely skin. Prepare your impressive, neat, genuine resume and attend the job fairs below. Ace the interview and get your dream flight attendant job!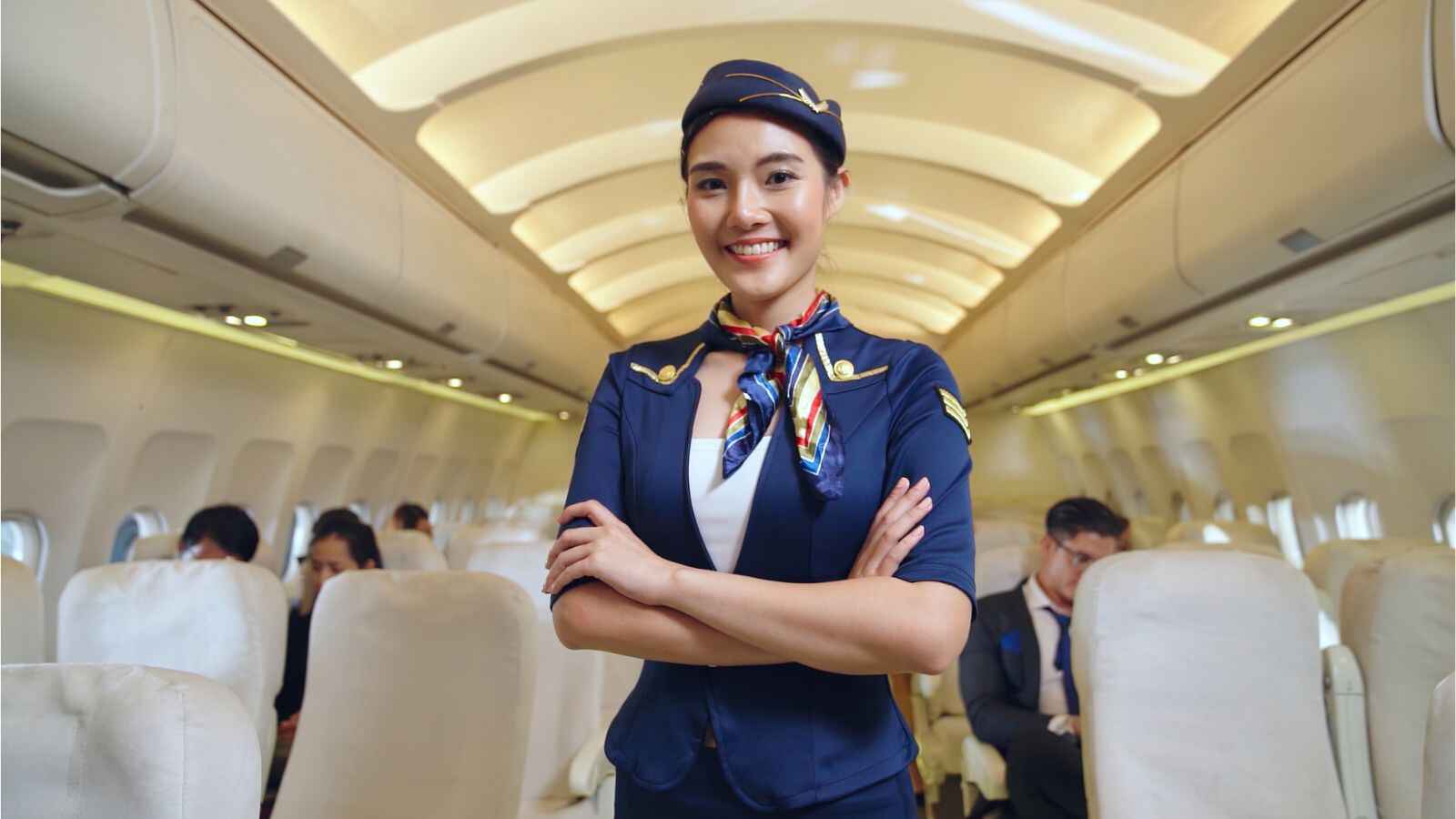 Cabin Crew (Flight Attendant) Jobs Hiring in the Philippines
1. Air Asia Cabin Crew Hiring
Wear that iconic red uniform and join Air Asia's team. Air Asia always looks for fun, hardworking, and committed people with great personalities. Air Asia is also among the world's best low-cost airlines. Their qualifications include:
Weight and height must be symmetrical and within BMI considerations (Body Mass Index (BMI) at 18.5-22 for females and 18.5-23 for male)
High minimum at 160 cm for female and 170 cm for male
Possesses good interpersonal and communication skills
High level of safety awareness
Clear complexion with no apparent blemishes/scars, no visible tattoos in uniform
Teeth must be clear with no braces, without visible damages/decay and crookedness
How to apply for flight attendant jobs at Air Asia?
If you want to become a cabin crew of Air Asia, watch out for their regular recruitment posted on their website. Make sure you're eligible and prepare for the role and responsibilities of the position. Update your CV or resume and apply at Air Asia's website or at Jobstreet latest post.
2. Oman Air Flight Attendant Jobs
The national airline of Oman accepts Filipino flight attendants. Fresh graduates and applicants without work experience are also encouraged to apply. They prefer single applicants without any tattoos and braces. Swimming skill is also an advantage.
How to apply for a cabin crew job at Oman Air?
Ensure that you meet the job responsibilities of flight attendants. Applicants must also comply with the work qualifications. Apply through Jobstreet and upload your updated resume.
3. Emirates Cabin Crew Job Application
Being a cabin crew at Emirates, one of the largest airlines in the world, is a dream come true for many aspiring flight attendants. Emirates serves over 150 cities across 85 countries worldwide.
If you want to work as a cabin crew at Emirates, you must:
Be fluent in English (written and spoken)
At least 160 cm tall and able to reach 212 cm high
Be a natural team player with a personality that shines
Meet the UAE's employment visa requirements
How to apply for a cabin crew job at Emirates in the Philippines?
Log in to the Emirates recruitment portal and search for any cabin crew job position. Click the "APPLY" button. You will receive a reference number. Register for a Job Seeker account at IPAMS, upload your resume, and provide your Emirates reference number. IPAMS is a reliable agency in the Philippines that hires cabin crews for international airlines like Emirates Group.
4.

Cebu Pacific

Flight Attendant Jobs
Cebu Pacific Air is a popular low-cost airline in the Philippines and the aviation business segment of JG Summit, one of the biggest conglomerates in the country. Attend their recruitment schedules if you want to join those beautiful and friendly flight attendants.
How to apply for a cabin crew job at Cebu Pacific?
Visit Cebu Pacific career's page to browse the latest flight attendant jobs or attend their occasional cabin crew recruitment events. Come in business attire, preferably a sleeveless blouse with blazer, below-the-knee skirt, with no stockings (for females).
Cabin Crew Requirements:
At least 5'3" in height for females and 5'7" for males
Has reached College Level
Proficient in Filipino and English language
Willing to be assigned outside of Metro Manila
Can start immediately
No visible tattoos
Cabin Crew Responsibilities:
Guarantees the safety of guests on board the aircraft
Ensures that guests have fun and pleasant flying experience
Cabin Crew Job Benefits:
Unlimited Travel Benefits
Medical Coverage
Competitive Compensation Package
Annual Performance Bonus
5.

Philippine Airlines Cabin Crew

Hiring Guide
Join the amazing and classy Philippine Airlines, the flag carrier of the Philippines. PAL is always hiring aviation staff and flight attendants. It is the biggest international airline in the country and the only full-service Filipino air carrier offering Business Class, Premium Economy, and Regular Economy services.
How to apply for a flight attendant job at Philippine Airlines?
While PAL has no recent cabin crew hiring announcement, aspiring flight attendants can visit PAL's recruitment portal or submit their updated resume with a picture at placement@pal.com.ph. Their job requirements usually include the following:
Flight Attendant Job Requirements:
Filipino Citizen
Can speak English and Filipino
Female applicants – at least 5'3"
Male applicants – at least 5'6"
Weight must be proportionate to height
With good visual impact and pleasing personality
With clear complexion and a good set of teeth
With perfect vision (20/20) or with contact lenses but not beyond (20/30)
18 years old and above
With flawless skin
No braces
No visible marks on the hands and legs
Minimum height of 157cm for ladies and 170cm for men
Details may change after the publication of this post.