How to get a Passport in DFA Pampanga – Latest Procedures, Requirements. Getting a passport is easier and more convenient nowadays especially after the online application feature was launched. Since I'm from Pampanga, I am sharing here how I got my passport from DFA, Robinsons Starmills, Pampanga together with the latest requirements and procedures.
It took me only an hour to finish the process. I recommend you download and print the passport application form in advance so you can fill it up at home before going to DFA. The requirements are listed at the back of the form.
UPDATE:
DFA RCO-Pampanga is now implementing online appointment. You need to make online schedule/appointment before you go to the DFA office to process your passport.
Senior Citizens, Minor (7 years old below), PWDs and Pregnant applicants no longer need to secure an appointment and may be accommodated on the same day.
Please come within mall hours (10am-5:00pm) with your complete requirements from Monday-Saturday (except holidays).
Note that the former DFA office located at the Central Terminal is not operating anymore and all passport services and applications are now being served at the new office of the Department of Foreign Affairs Region 3 in Robinsons Starmills Mall, Pampanga near SM City, Pampanga.
All passport issued by the DFA are now called ePassports (aka electronic passports)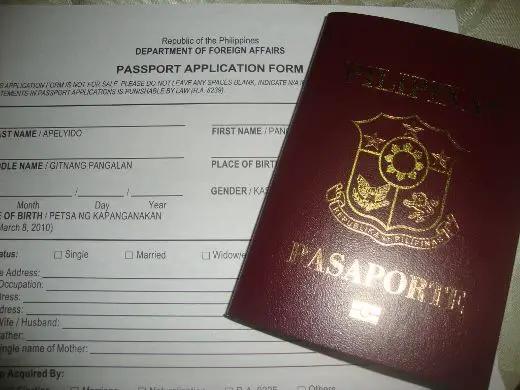 The DFA passport online application is currently only for those DFA Aseana Blvd. appointments and some DFA SM branches in Manila like SM Megamall, Robinsons Galleria, Ali Mall etc.). I think DFA will implement a nationwide service for the online appointment system soon. I hope we can all access status enquiry and update passport application online soon too. With today's technology, I think this service will be coming sooner.
Tips to have a fast passport appointment done:
Download the passport application form (download it here) and fill it out at home before you go to DFA
Prepare your requirements and photocopy them
Go the DFA office and make an appointment. DFA RO 3 now requires walk-in appointment. You can read the comments below to have ideas what time the long line starts.
Passport Requirements for New Applicants
Personal Appearance
Dully accomplished application form
PSA Authenticated Birth Certificate (original and photocopy)
PSA Marriage Certificate (for females who want to use married surname)
1 Valid Government Issued ID (original and photocopy)
Passport Processing Fee (P950 for regular processing, P1200 for Rush Processing)
Renewal of Passport Requirements
Personal Appearance
Old Passport (original and photocopy of pages 1,2,3 and amendment page)
PSA Authenticated Birth Certificate (original and photocopy)
PSA Marriage Certificate (for females who want to use married surname)
Valid IDs or Supporting Documents (original and photocopy)
Passport Renewal Fee (P950 for regular processing, P1200 for Rush Processing)
If you lack ID, see the list of acceptable IDs and supporting Documents in the Philippines.
Latest Passport Fees 2019
Passport fees are listed below – for new applicants, renewal, replacement of lost expired passport, and replacement of  lost valid passport.
Regular Processing (15 working days) – P950
Rush Processing (7 working days) – P1200
An additional fee of P200.00 for a lost valid MRRP / MRP or P350.00 for a lost valid e-passport.
Procedures in getting a passport in DFA Pampanga
1. Have your appointment date. They now make schedules for passport processing appointment ONLINE.
2. Attend your appointment. DFA Pampanga is located at the 2nd Floor Robinsons Starmills (Arayat Gate). Once the processing starts, you'll see the number of passport applicants being served for the day on the digital screen in front of the DFA entrance. Wait for your turn. The first part of passport processing is having your application form checked and verified for any discrepancy or incomplete details. Your requirements will also be checked.
3. Part 2 of the passport application process is having your personal information encoded, your photo being captured, your fingerprints scanned and your signature printed. After that, you're done.
4. They will give you your receipt back which contains the release date of your passport. Attend on the given date by bringing the receipt and your valid IDs.
5. Congrats! You now have your Philippine Passport which you can use to travel overseas and apply for a visa. Take care of your passport as you take care of your life. Our passports are also considered as valid ID.
You may also like: