How to apply for Australian tourist visa in the Philippines online? This is how I got my tourist visa for Australia approved the first time of application. My Australian tourist visa was granted after 7 days. Note that processing of visa applications may differ now because of the pandemic.
On this page, I'm gonna share with you how to apply for Australian tourist visa together with the requirements and procedures to get the visa successfully.
I also helped my two sisters, one is employed and the other one self-employed, both are single. Like me, they successfully got their tourist visa for Australia approved the first time of application. I hope your visa will be granted as well because visiting Australia is amazing. I will show you how beautiful it is on another blog post.
Note that this visa application is intended only for tourist visa. Australian visa processing like student visa, working visa, immigrant visa, fiancé visa and the like have different requirements and application process. You should know your purpose and category as an applicant.
When to Apply for Australian Tourist Visa in the Philippines?
Like any other country, I always apply for visa 3 months before the travel date simply because it is what most embassies recommend. Having this time frame will also help you prepare in gathering the complete documents required in getting Australian tourist visa.
How to Apply for Australian Tourist Visa in the Philippines?
Create an IMMI account
Verify your email address
Start a New Application
Select Visitor Visa
Read the Terms and Conditions and Privacy Statement
Provide your details accurately
Attach the required documents
Submit your application
Pay the visa fee AUD 145
Wait for your Visa Grant notice on your email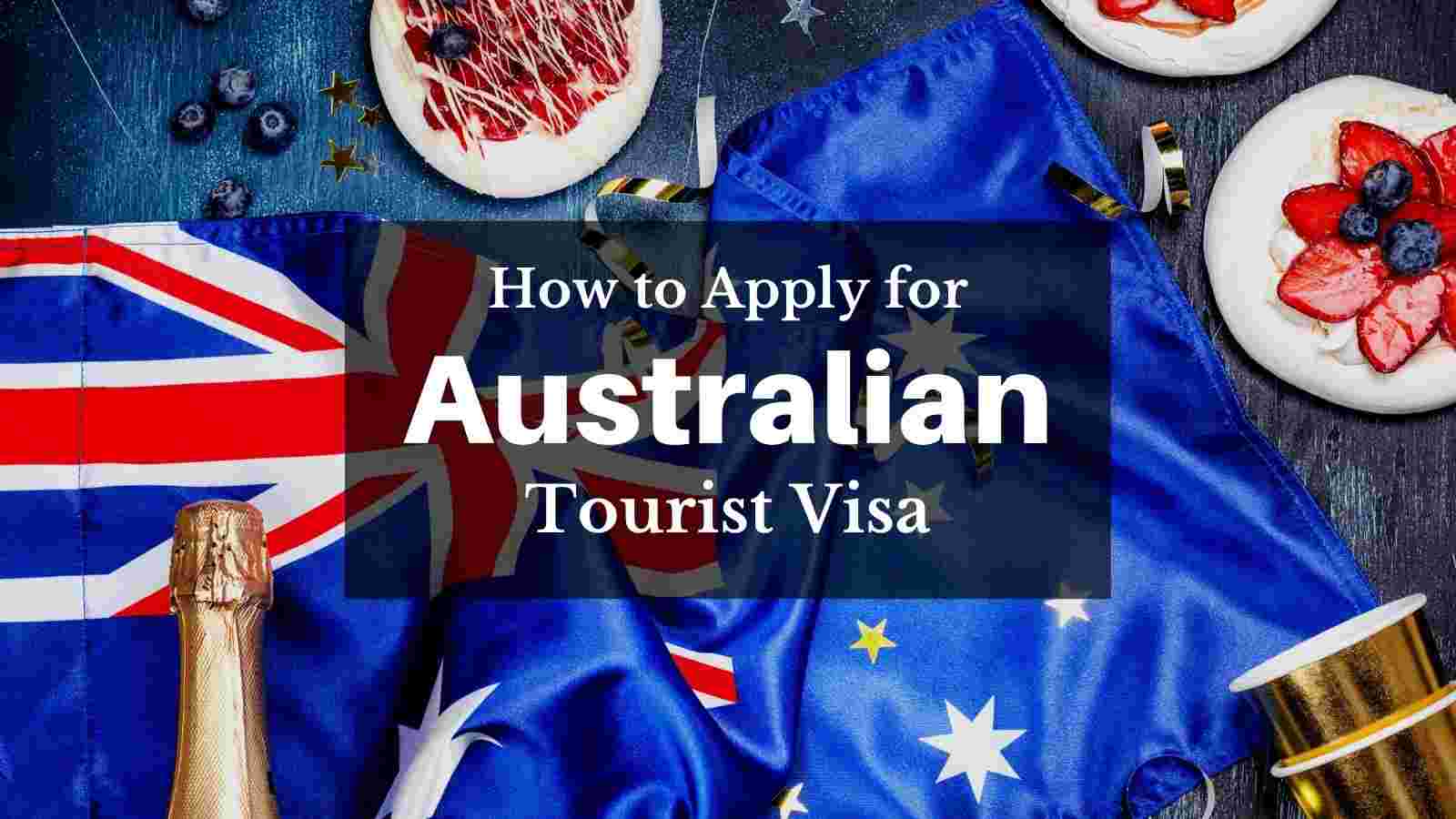 How to Apply for Australian Tourist Visa Online (Detailed Steps):
1. Create an IMMI account
Create an IMMI account. If you already have one, then log in. This is where you submit your visa application. If you are a group or family, you can use one IMMI account then create each application of your family member inside your account.
2. Verify your email address
This is important and should not be missed. After you signed up or created your IMMI account, check your email inbox and find the message of IMMI Australia about the verification of your email. You should click the CONFIRM link they provided. This ensures security and assurance of your communication with them. This also ensures you will receive all notifications and emails including your visa notice. Yay!
3. Start a New application
Select the New Application button from the dashboard.
4. Select Visitor Visa
From the given options, choose Visitor then select Visitor Visa Subclass (600).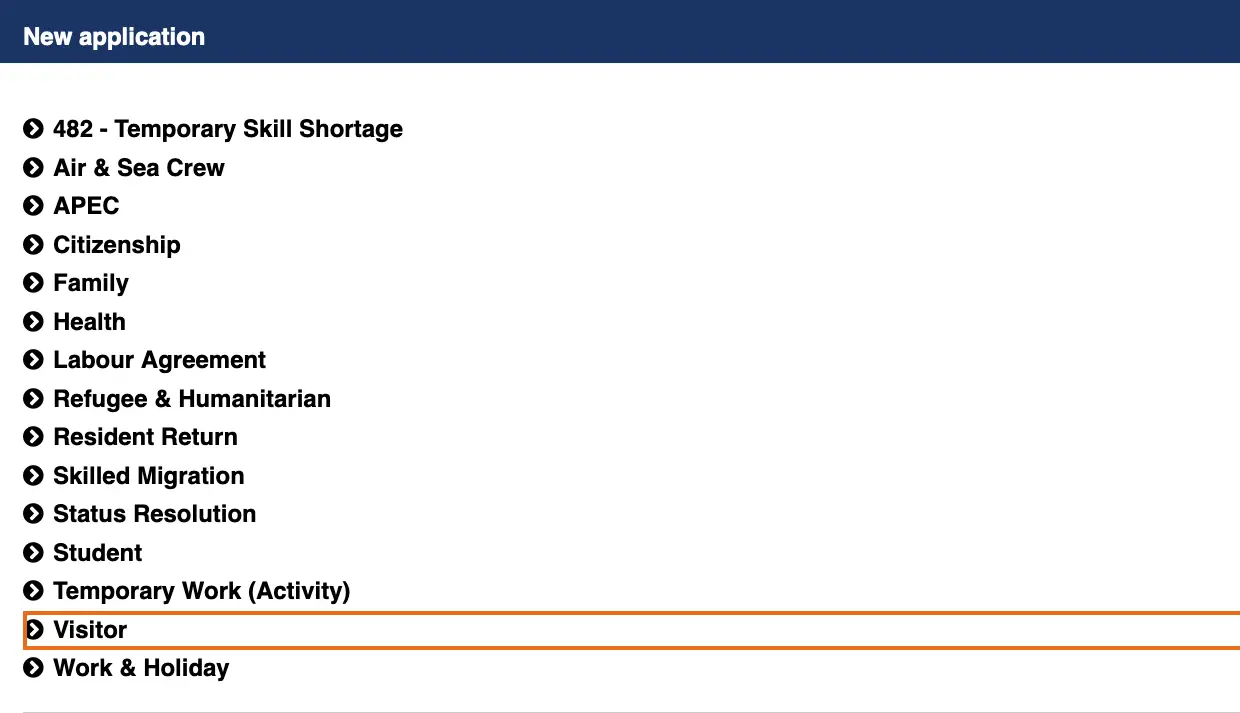 5. Read the Terms and Conditions and Privacy Statement
Take time to read and agree to the Terms and Conditions, likewise the Privacy Statement. Take time to really read it, do not just scroll down. When finished, continue to the next page.
6. Provide your details accurately
Provide only correct and honest details. The application form will ask about necessary information including the following:
Current location
Is the applicant currently outside Australia? I put mine YES since I am in the Philippines at the time of visa application. I put Citizen on the Legal status.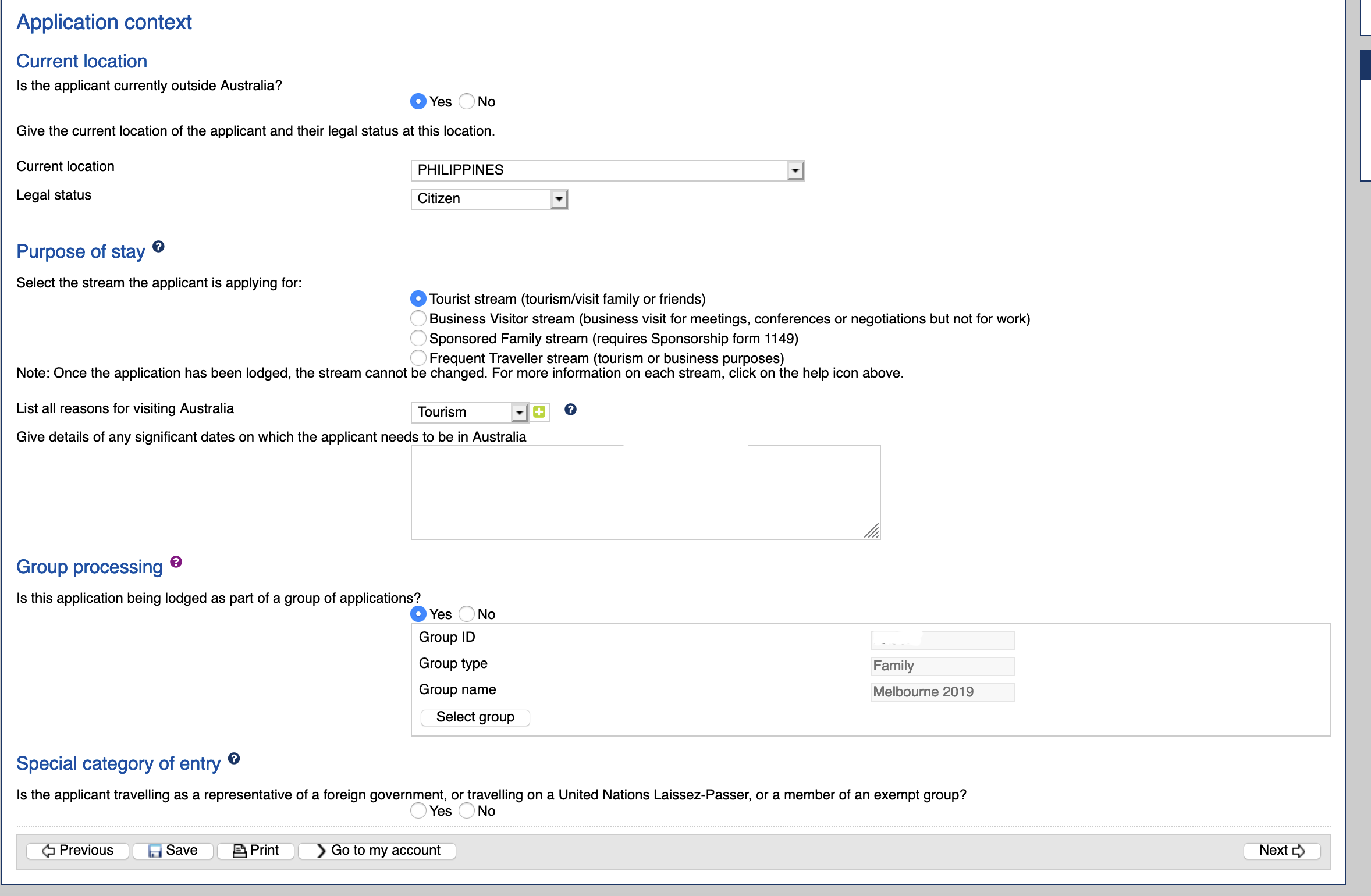 Purpose of Stay
In this field, I selected Tourist stream (tourism/visit family or friends) since that was what applied to me. You need to list all reasons for visiting Australia (such as business, tourism, family visit, study, religious event, others). I only stayed in Australia to see the beautiful spots. Thus, I only listed Tourism.
Give details of any significant dates on which the applicant needs to be in Australia
You can write here any detail if you need to be in Australia on an important date or occasion. Otherwise, leave it blank if you can visit any time. I left mine blank.
Group Processing
If your application is being lodged as part of a group of applications, you can create a group ID or name and use this to your other family member's application. How cool!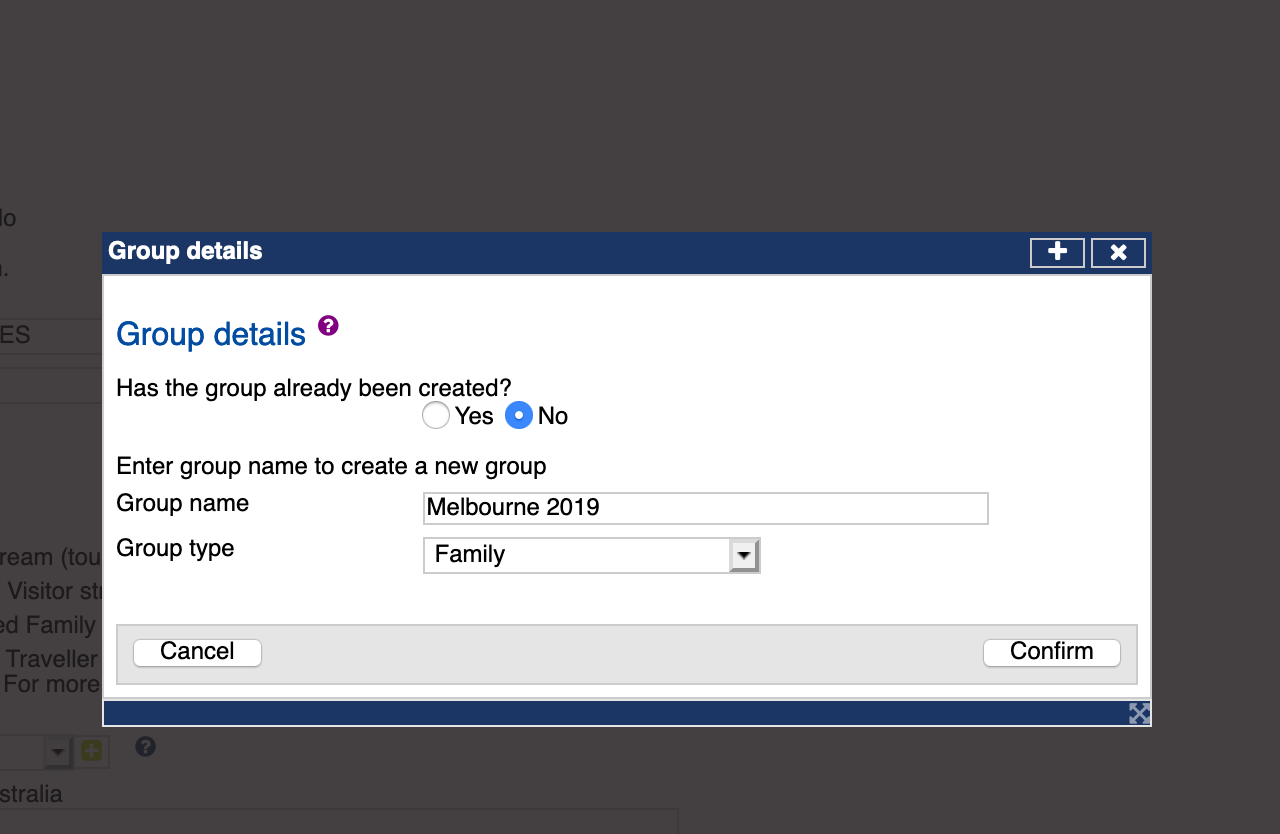 Special category of entry
Is the applicant travelling as a representative of a foreign government, or travelling on a United Nations Laissez-Passer, or a member of an exempt group? Kindly, answer yes or no with this one. This does not apply to me, so I answered NO.
Passport details
These are important details so whatever you provide in this part, you need to double or triple check. The details must also be consistent with the details on your passport. Entering incorrect info may result in delay of boarding on an aircraft. In addition, your passport must be valid for at least 6 months when you go abroad.
National Identify Card
I answered NO with this one since we don't currently have national ID in the Philippines. Perhaps, when PhilID would be available for all Filipino citizens, then that would be good.
The other details are self-explanatory. Again, you must provide true and accurate data about yourself, the applicant.
Other Identity Documents
According to Australia Home Affairs, these includes national identity documents issued by a government other than Australia. These include birth certificate, driver's license, marriage certificate, Social Security card, alien registration number and national identity document.

I provided the details for my PSA birth certificate, LTO driver's license and SSS UMID card in this field. The identification number of PSA birth certificate is located at the lower part of the paper while the SSS UMID card is the CRN.
Travelling companions
List each of your travelling companion's details in this field. Add each one and provide your relationship with them. If they are part of your group, provide their group ID or name.
The next part will be your contact details. Again, that is self-explanatory. Nevertheless, provide only accurate information and double check your data.
Non-accompanying members of the family unit
Does the applicant have any members of their family unit not travelling to Australia who are not Australian citizens or Australian permanent residents? Honestly, this question is a bit confusing. Apparently, if you are single, just select NO to answer this question. For further details, the definition of non-accompanying members of family unit are included when you tap the question mark button.
Proposed Period of Stay
If you are applying for multiple entry visa, this is the section where you need to let them know about it. Your details here must be consistent with your itinerary (supporting document). We did not intend to stay in Australia on more than one occasion. Fortunately, we have been granted multiple-entry visa.
Current Employment Details
Provide your employment details including your occupation and start date of job, the address of your company and their contact number. If you self-employed, choose the self-employed status.
Financial Support
This section is about your funding details or how the applicant's stay in Australia will be funded (self-funded, supported by current overseas employer, supported by other organization, supported by another person). Whatever your choice here, you must provide proof of financial support when you upload your documents. I chose SELF FUNDED with this one.

What funds will the applicant have available to support their stay in Australia? My answer in this section was "I will use my personal savings for my hotel accommodation for all the expenses of my travel in Australia."
Health and character declarations
You need to answer truthfully all the questions in these sections. Remember, do not lie.
Visa History
This is helpful especially when you have visas issued by other countries. Expired or not, you can provide the details in the box. Moreover, you must also answer honestly if you ever had a visa for Australia or any other country refused or cancelled.
7. Attach the required documents
Tourist visa online application for Australia requires uploading of scanned documents. There are specific quality and formatting requirements when scanning documents. The specific instructions can be found on your IMMI account.
Follow the guides on how to upload the documents in this page: "Australian Tourist Visa Requirements for Filipinos."
To sum up, you can attach files up to 5MB in size with the following extensions: bmp, dcm, doc, docx, dot, gif, jpg, pdf, png, ppt, pptx, rtf, txt, xls, xlsx.
8. Submit your application
Do not click SUBMIT unless you have completed the attachment of the required documents. Once you have checked and reviewed everything, every answer, submit your application.
9. Pay the visa fee
Tourist visa application fee for Australia is AUD 145 for Visitor Subclass 600. After you submit your application, you will be taken to a page to pay the visa processing fee. You can pay using a credit card. It's the fastest and easiest way.
10. Wait for your Visa Grant notice on your email
The nerve-wracking part is waiting for your visa to be approved. Chill out and do not worry if you have done your best. You have nothing to worry about if you have provided truthful information.
I got my visa grant notice after 7 working-days. A friend of my sister mentioned they usually receive visa at lunch time whenever they apply. I think they're right because we received our visa notice around lunch. I say anytime of the day is fine as long as it is granted.
Australian Tourist Visa Requirements Philippines:
Online Application Form
Passport-size photo (soft copy, with your signature at the back)
Passport info page
Evidence of previous travel (visa documentation and entry or exit stamped pages of current or old passport)
Family Composition Form (Form 54, PSA birth certificate)
Evidence of planned tourism activities in Australia (itinerary or planned activities)
Proof of financial status and funding for visit (personal bank statement, bank certificate, ITR, credit card statement, title deed, retirement pension book, tax document)
Evidence employment or self-employment (certificate of employment, payslip, evidence of leave, DTI Permit, Mayor's Permit)
Bank statement and bank certificate must be issued in the last 3 months at the time of visa application. For employed applicants, your certificate of employment must indicate your length of employment or how many years you've been employed, your annual salary and your position in the company.
Australian Tourist Visa Philippines Processing Time
How long is the processing time for Australia tourist visa online application? We got our visa after 7 working days. Some people get theirs after 3 days, others after 24 hours. It depends upon your application and your documents. After you submitted your visa application, you will receive an estimated time frame of the result. It's usually the one being followed in most cases.
Australian Tourist Visa Validity
According to IMMI Australia, they generally grant 3-month visa or 12-month visa in certain circumstances. It's a case to case basis. They can grant single or multiple entry. Your visa validity can be found on your visa grant notice.
Other Visa Guides: