Great news everyone! Now we can take the free POEA Pre-employment Orientation Seminar Online. Everyone can take it – OFW or not OFW. You can take it anywhere as long as you have internet connection.
If you have completed the modules provided in the online seminar, POEA will issue you a PEOS Certificate which you can use as additional certificate when applying a job and you can include it your pre-employment processing with POEA.
Coverage of
POEA Pre-Employment Orientation Seminar (PEOS)
This online seminar takes around 42 minutes to complete. It has 8 modules and each module takes around 7 minutes to complete.
Each module contains a short video in Tagalog and a slide presentation discussing information involving jobs abroad application, expectations, processing fees, avoiding illegal recruitment, culture of different countries overseas and many more useful and important advices about applying and working abroad.
Each module also has questions you need to answer as a review of the topic discussed. You need to get at least 3 correct answers to proceed to the next module / topic.
In short, this is a very helpful and informative seminar to guide an interested OFW or OFW wannabe before working abroad. The orientation is different from that of PDOS. The PDOS is provided for official OFWs only.
Who can take the Pre-Employment Orientation Seminar Online?
Any Filipino can register for the PEOS online, with the following purposes:
Pre-employment Requirement
Thinking about working overseas
Research purpose
And other purpose you indicate
Why you should take the PEOS Online?
It is better to take it online that take it at the POEA where you join lots of people. Time is gold.
It is more convenient to take the Pre-employment Seminar online.
You can take it anytime, anywhere as long as you have internet and you registered at their website.
It is fast, each module takes about 7 minutes to complete.
You hold your time honey, you can pause the video or slide presentation and resume it later.
It has everything you need to know about working overseas – learning modules, videos, and downloadable POEA materials.
Did I say you will get a POES certificate after you completed the seminar? Yup, you can print it anytime and you can use it in your pre-employment POEA processing.
What I learned in the PEOS Online?
I learned about the pros and cons of being an OFW. OFWs may earn a lot of salary compared from working here but you have to risk being away from home and working with people you have to deal with in spite of culture differences, languages, foods, climate, dress code, lifestyle, currency exchange, and religion or belief.
I learned about the fees involved in applying and registering as OFW including the legal placement fees, OFW benefits, OWWA and the like. I also got to know about avoiding illegal recruiters and scams. The module about staying healthy and keeping safe is also very important.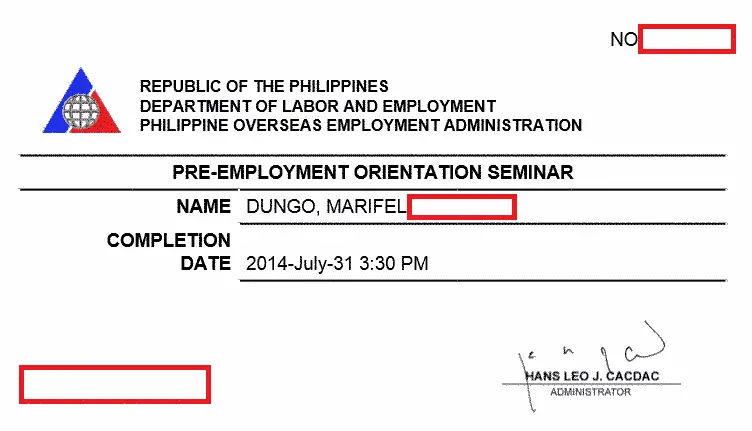 POEA Pre-employment Orientation Seminar Online Review
I recommend you complete the PEOS online because it's free and it will only take few of your time. Besides, you can do it at the comfort of your own home.
Not only you will get a certificate issued by POEA, you will also learn and discover a lot of info and knowledge nobody can take away from you as an OFW or OFW wannabe. Knowledge is power!
Start now! Register at this POEA link.