What is Peso Cost Averaging and how does it work for investments? I'm sure you always read or hear about peso-cost-averaging (a.k.a. PCA) but you're wondering how it works, how it makes money, why it's important, why lots of investors are applying this method for their investments and why you should too.
What is Peso Cost Averaging?
Peso Cost Averaging is a time-tested well-proven method of investing wherein you buy shares of stocks or units of funds regularly over a period of time. It is up to you WHEN, as long as you invest regularly until your target time or until you have reached your investment goal.
How to Invest Money Using Peso Cost Averaging?
You must decide and determine the following:
How much money you want to invest (P5000, P10,000 etc.) – it is recommended to invest at least 20% of your regular income
When do you plan to invest it? (1x, 2x, 3x a month, quarterly etc.)
Your target time – how long do you want to keep your funds invested? The longer the time, the better.
You may apply this strategy if you want to spend a fixed amount of money for a mutual fund or UITF to invest every month. You are going to keep investing this fixed amount of budget every month until your target years.
Another way you can apply this method is by buying worth of P5,000 units or shares of your chosen blue chip stock for example. You are going to invest P5,000 every month no matter what the condition of the market.
How will you make money using PCA?
It is very important to invest with the right companies to receive great returns or profit. If you are investing in Mutual Funds, choose the best mutual fund companies because they have already proven great track records.
If you're investing in the stock market, choose the giant companies that you are sure would be here for another 50 years or so. These big companies have excellent growth stocks track records.
Because you invest regularly, you are adding and putting up more shares or units of investments in your funds whether the market is up or down. You are also minimizing risks by maximizing your earnings and letting them grow over time.
Peso Cost Averaging Computation

Sample:

I'm sharing here how PCA works relating to stock investments. In the sample below, assuming I decided to use around P5000 to buy stocks every 30 days. Notice that whether price of stocks is high or low, I still gain profit in the end.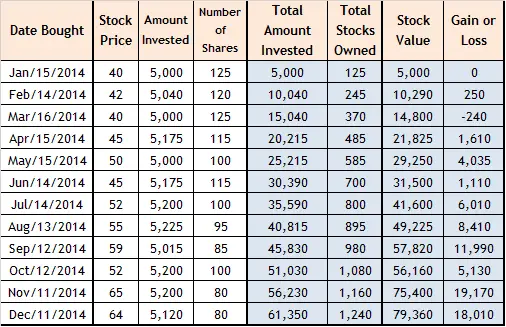 If you are currently investing in stocks, you can use and download this Excel Format I got from Fitz Villafuerte, so you can easily compute your earnings every month.
Another sample here is taken from my UITF Equity Fund which shows gains every placement of units I bought. Sample below is an investment of 2000 every month. This was a real screenshot from my BDO investment.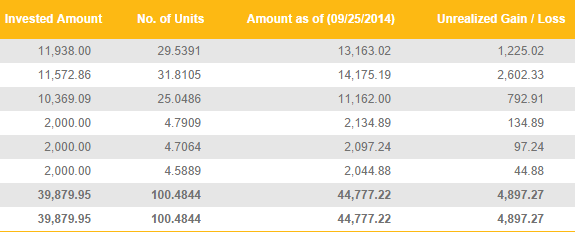 PCA Method Conclusion:
Peso Cost Averaging is a very reliable and safer method of investing because you will earn money in the long run. The main strategy is to invest with well-established companies with excellent performance and stable income status. Do it regularly for long term.
Other Investment Guides: