If you are one of the millions of people who wish to avail of the SSS Loan Condonation Program, you can now do it online for easy and convenient access. No need to submit documents or going personally at the SSS office just to apply for this chance.
SSS has launched this amnesty program for all its members for condonation of loan penalties. This is so amazing and so generous for delinquent borrowers who don't know how to pay their loans. Now, SSS offers easy options for them to avoid scary penalties.
SSS Condonation Program Online Application Requirements
Member must be registered in the MY SSS from SSS official website – sign up for SSS Online Inquiry System
Member has paid at least three amortizations since the date of loan
Member has paid at least three months contributions within the last six month before the date of application to this program
Benefits of SSS Condonation Program
90% write-off of accrued penalties for borrowers who settled their amount due in one full payment
80% write-off of penalties for borrowers who chose to pay in monthly installments in a 1, 2 or 3 year period)
How to Apply and Process SSS Loan Condonation Online
Once you have an active MY SSS account, log in.
You will see at the left side on your Profile page the Loan Condonation Tab. Select it.
Then your SSS number will automatically appear. Just tick the option you wish to choose according to your payment capability.
Agree with the Terms and Conditions.
You're done.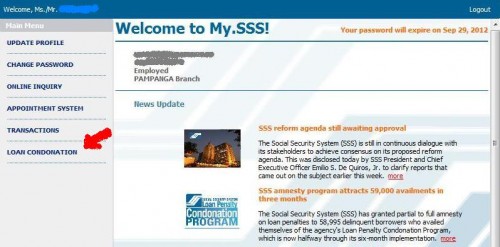 That's so easy. SSS online system will inform you if you need to comply and submit other requirements such as payments of contributions to qualify for the condonation. If not, that means you are already entitled and you don't need more requirements anymore.
You will receive an email from SSS once your application for loan condonation has been approved. The email also includes the complete details of your payments due under the Condonation Program you have entered and agreed upon.
Applicants with further document requirements submission need to submit their Condonation Program application form together with the added requirements such as affidavits, pay slips, benefit claim forms and others. These docs are specified in the email reply in case you are among these groups under this category:
Members whose employers didn't remit their loan payment and amortization to SSS
Un-posted amortization payments in the SSS
Beneficiaries of deceased members with outstanding loans
Members and borrowers filing for either total disability or retirement claims
For the above category, condoned penalties range from 50 to 100 percent.
Why delinquent borrowers need to avail Loan Condonation program?
Simply to remove the delinquent status, avoid many penalties and have the full eligibility to SSS benefits throughout their life until retirement.
Related articles: