The PNP entrance exam 2022 online application, schedule, and requirements are listed on this page. Follow these procedures and requirements for your successful application. The NAPOLCOM (National Police Commission) recently announced that they will now conduct PNP (Philippine National Police) exam.
Online application and filing of examination are now open. So if you want to join the PNP, you must have the following requirements if you are taking the exam this year 2022.
PNP is open to all Filipino citizens who meet the age, height, and educational requirements. For the complete details of requirements, visit this page: "PNP Requirements."
The National Police Commission conducts two sets of police examinations twice a year – one for those already in the police service (promotional) and the other for applicants who want to enter the PNP. On this page, we share with you about the PNP entrance exam.
What is a PNP Entrance Exam?
A PNP entrance exam is a set of tests conducted by the National Police Commission for those aspiring to enter the Philippine National Police. Those who passed the PNP exam will be eligible for the appointment to the rank of Patrolman or Patrolwoman, as prescribed under Section 30 of Republic Act 6975, as amended by RA 8551.
PNP Entrance Exam Schedule in 2022
The PNP entrance exam date in 2022 is posted below. The period of PNP online exam application scheduling is on March 1 to 4, 2022. The NAPOLCOM server will be available at 12 noon of March 1, 2022 onwards.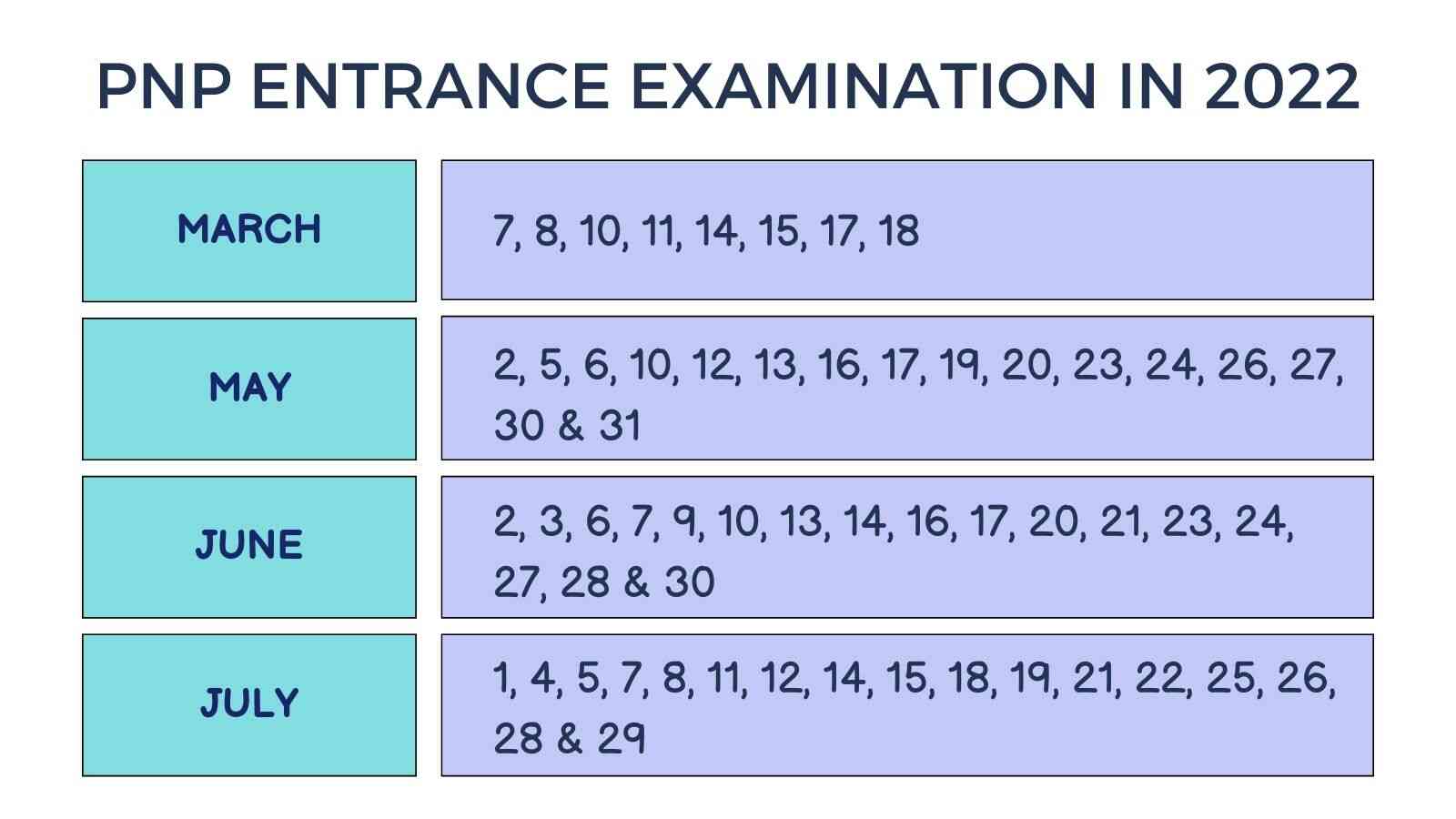 PNP Exam Test Centers in 2022
The NAPOLCOM exam will be held on the 20th Floor, CAEx Room, DILG-NAPOLCOM Center, NAPOLCOM Building, NAPOLCOM Central Office, EDSA corner, Quezon Avenue, West Triangle, Quezon City.
Who are eligible to take the PNP Online Entrance Examination?
According to the NAPOLCOM, applicants who registered in the OLEASS (Online Exam Application Scheduling System) for the PNP entrance exam category of the computer-assisted examination (CAEx) system are eligible to take the PNP entrance exam.
An applicant who has been issued a Notice of Admission (NOA) doesn't need to file an application again. Instead, they shall coordinate with the Regional Office where they filed their application for the issuance of their new NOA.
How to Register for PNP Online Exam Scheduled Appointment?
Step 1: Sign up for an OLEASS-NAPOLCOM account
Register and sign in to your OLEASS-NAPOLCOM account. Encode your details accurately. Choose your date of examination.
Step 2: Submit your appointment application
Check everything you have typed and click the "SUBMIT" button. The applicant will receive a confirmation message indicating that the registration was successful. Otherwise, you will need to repeat the previous step.
Step 3: Print out your confirmed schedule
You will receive an email containing your confirmed schedule and a link you need to access to complete your application form. Click the link and provide all the required information in the form. Print out the filled-out application form and bring this on your appointment date.
Present the form to the Examination Application Processor from 8:00 a.m. to 9:00 a.m. (Processing Time) at the Examining Division One-Stop-Shop, 7th Floor, NAPOLCOM Central Office, EDSA corner Quezon Ave., QC during your scheduled appointment/ exam date, with the emailed confirmation slip.
How to File an Application for the PNP Entrance Exam?
Applicants should file their applications, together with the emailed confirmation slip and all the required supporting documents listed below, on their scheduled appointment dates, personally at the 7th Floor, Examining Division One-Stop-Shop, NAPOLCOM Central Office, DILG-NAPOLCOM Center, NAPOLCOM Bldg., EDSA cor., Quezon Ave., West Triangle, QC. Male applicants must be in proper haircut and well-shaved face.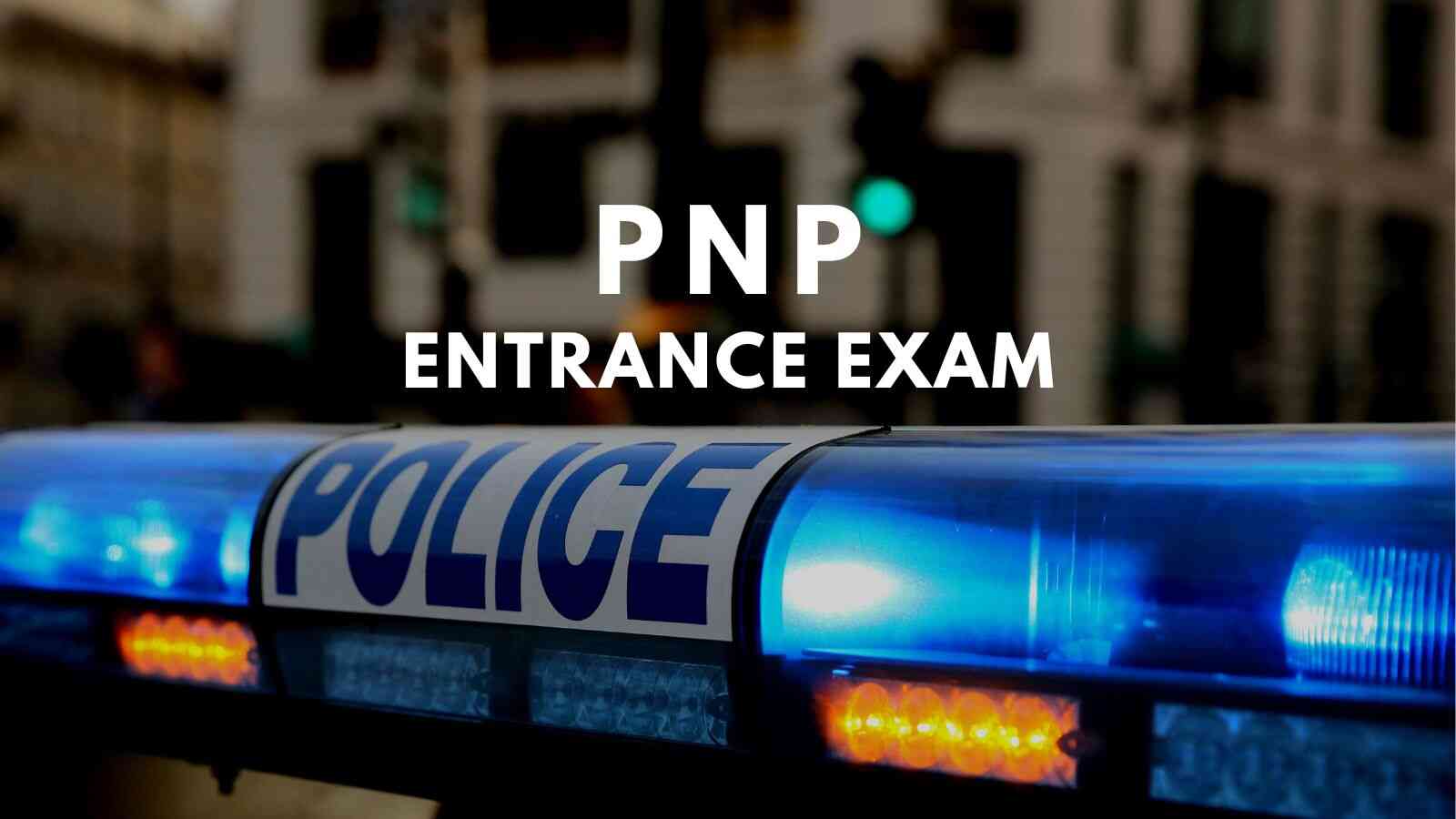 PNP Entrance Exam Application Requirements:
Printed Confirmation Letter with reference number confirming scheduled appointment
Duly accomplished Application Form and Index Cards – you can download NAPOLCOM Form 1-A (here) and Index Cards (here)
2 recent and identical 1×1 ID photo (colored) with white background and complete name tag (indicate rank before the first, middle and last name if PNP member)
Police exam fee of P600
1 legal size window envelope
Transcript of Scholastic Record (with Special Order issued by CHED) and Diploma from CHED-accredited schools, state universities and colleges
College or University Diploma
Birth Certificate in Security Paper issued by the Philippine Statistics Authority (PSA) or Certified True Copy (CTC) issued by the Local Civil Registrar (LCR) and duly authenticated by PSA
For Patrolman or Patrolwoman with temporary appointment, a certified true copy of Attested Appointment, Plantilla Appointment or Special Order
1 Government-issued ID with signature (SSS or GSIS UMID card, Boter's ID, Postal ID, Passport, Driver's License, PRC)
Present any of the following:

Vaccination Card (for fully vaccinated applicants) and a Medical Certificate issued by:

Licensed Private Physician; or
Government Physician from the Barangay/Municipal/Provincial Health Office, or other government health monitoring center/office where the examinees reside. It must clearly state that you are COVID-19 free or did not exhibit any signs or symptoms related to COVID-19. The medical certificate must be issued within 72 hours before examination day. In the event that the examinee acquired COVID-19 in the past, an additional Medical Certificate must be presented stating that the applicant has already recovered from the disease and has completed the required community quarantine.

Negative RT-PCR Test Result (for non-fully vaccinated and un-vaccinated applicants) issued within 72 hours before the exam day (from any government or government-accredited testing centers)
Any other requirements as may be requested by the Quezon City LGU (if any)
Qualified applicant will receive a Notice of Admission (NOA) on the day he/she filed his/her application for PNP exam. The applicant will be required to proceed to the Examination Center (20th Floor) to take the PNP exam. The PNP will accommodate only 20 examinees per examination day.
What is the Coverage for the PNP Entrance Exam

?

The PNP entrance exam is a 3-hour exam with objective types multiple choices with the following coverage:
General Information:
Philippine Constitution
Philippine Law and History
Criminal Justice System
Current Events
Social Awareness
Value Judgement/ Uprightness
Verbal Reasoning:
Vocabulary
Comprehension
Grammar
Quantitative Reasoning:
Basic Concepts
Problem-Solving Skills
Logical Reasoning:
What to Wear During the PNP Entrance Exam?
Note that applicants wearing improper attire will not be allowed to enter the examination center. Applicants must wear plain white T-shirt or white Polo shirt, dark pants and shoes.
What to bring on the PNP exam?
NOA (notice of Admission)
Pencil No. 2
Valid ID (with picture and signature) such as SSS UMID or GSIS UMID, voter's ID, postal ID, passport, driver's license, PRC etc.
PNP Exam Minimum Qualification Standards: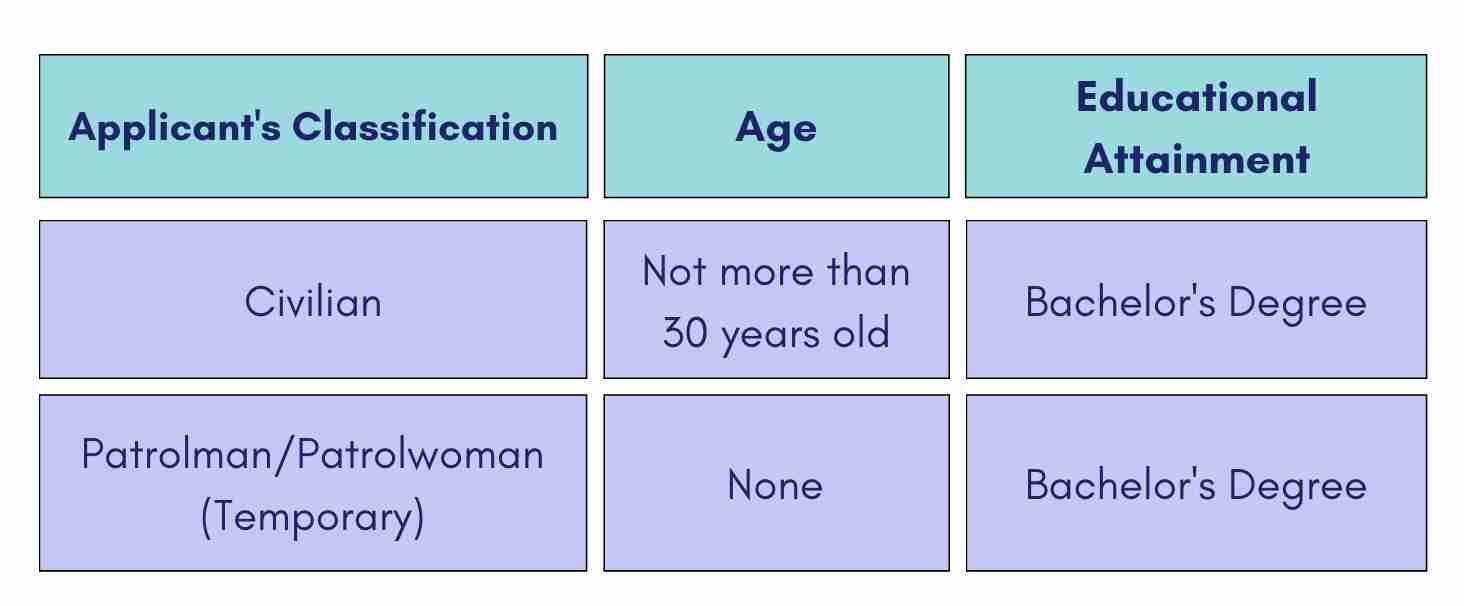 How to know if you passed the PNP entrance exam?
There are 2 ways to know if you passed the PNP exam. The first one is by checking out the posted exam results at the NAPOLCOM One-Stop Shop, 7th Floor NAPOLCOM Building in West Triangle QC. The second one by waiting for your notification. NAPOLCOM will mail the Report of Rating (failed examinees) and Certificate of Eligibility (successful examinees) to your mailing address.
AFP Job Opportunities: