iPhone 14 price in the Philippines in 2022 with iPhone 14 Plus, iPhone 14 Pro, and Pro Max. We posted the official price list of the new and latest iPhones here in pesos, the top 5 reasons why you must buy the latest iPhone 14 Pro Max.
We also summarized the comparison of the main differences between the 3 types of iPhone 14 released recently.
Apple just unveiled the latest and new iPhone 14 variants – all with 5G capability. Apple CEO, Tim Cook, started the keynote. It began with the introduction of the latest Apple Watch series including the new Apple Watch Ultra. Then it revealed the new Airpods Pro and iPhone 14.
Investing Apple Shares Before iPhone Release
As an Apple investor, I buy shares of stock of Apple (AAPL) before the release of a new iPhone, which is usually done every September and October of each year. It's a smart move to earn money from it. If you want to invest in Apple stocks, check out this guide: "How to Invest Facebook, Apple, Google Stocks in the Philippines."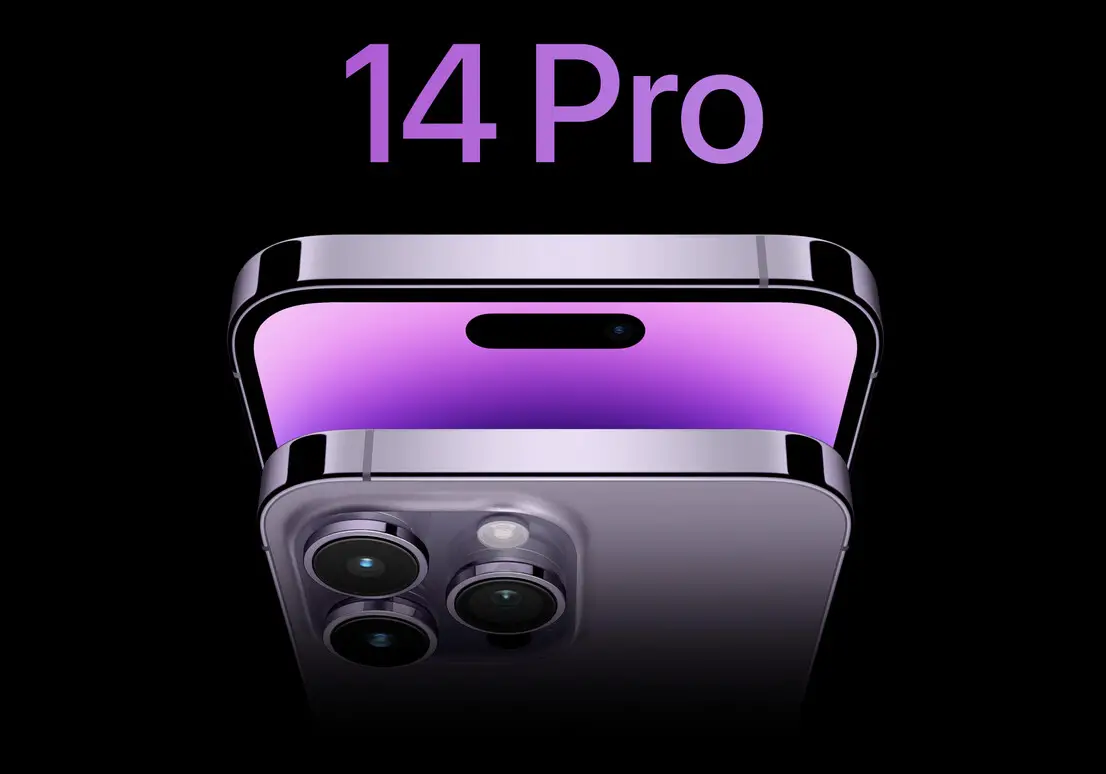 5 Reasons Why You Must Buy the New iPhone 14 Pro Max
1. Highest Video Quality of all Smartphones
My favorite feature and the best feature of the latest iPhone 14 Pro Max is its 4K 60 fps video recording capability and HDR video recording with Dolby Vision up to 60 fps. Additionally, it has sensor-shift optical image stabilization. Perfect for making cinematic videos anytime. You can also shoot a time-lapse video without needing a gimbal or stabilizer. Yay!
Only iPhone 14 Pro will let you shoot and edit Dolby Vision using a mobile phone. You can level up your film editor skills by using video editing apps like iMovie or Clips.
2. Professional Camera System
iPhone 14 Pro Max is the most innovative 5G smartphone with a triple-camera system with a cutting-edge LiDAR Scanner, a technology used by NASA for its next Mars landing mission.
It comes with a Pro camera system – 48MP Main Camera with f/1.78 aperture, 12MP Ultra Wide with f/2.2 aperture, 12 MP Telephoto with f/2.8 aperture. Its cinematic capability is already a game-changer for a smartphone. A superior camera lens with iPhone 14's aperture already can cost hundreds of dollars for DSLR and mirrorless cameras.
The Telephoto camera is another advantage for photographers, Instagram influencers, and everyone who likes capturing an expanded field of view by zooming from the telephoto to the ultra-wide camera.
3. Fastest CPU of all Smartphones
The new iPhone 14 prides itself on having the fastest CPU ever in a smartphone. Its A16 Bionic Chip is very powerful and intelligent. Its 5-core GPU comes with 50% more memory bandwidth and its Neural Engine runs a blazing fast performance. With its Dolby Vision recording technology, even professional movie makers can use this iPhone to create cinematic films.
4. Security and Privacy
Every Apple device is engineered to protect our privacy. We've been using iPhone, iPad, MacBook, and iMac for many years now, and we've never encountered any privacy and security issue. Every Apple device is trusted. You won't even need anti-virus software to protect your files and your gadget. Likewise, all their apps and programs are safe and regularly updated.
5. Latest 5G Technology
5G is the fastest generation of wireless technology. If you want to use the world's fastest mobile network, then iPhone 14 can give you that speed. The software and hardware of the iPhone 14 have been optimized to provide you with the best 5G experience boosting your download and upload speed to the max.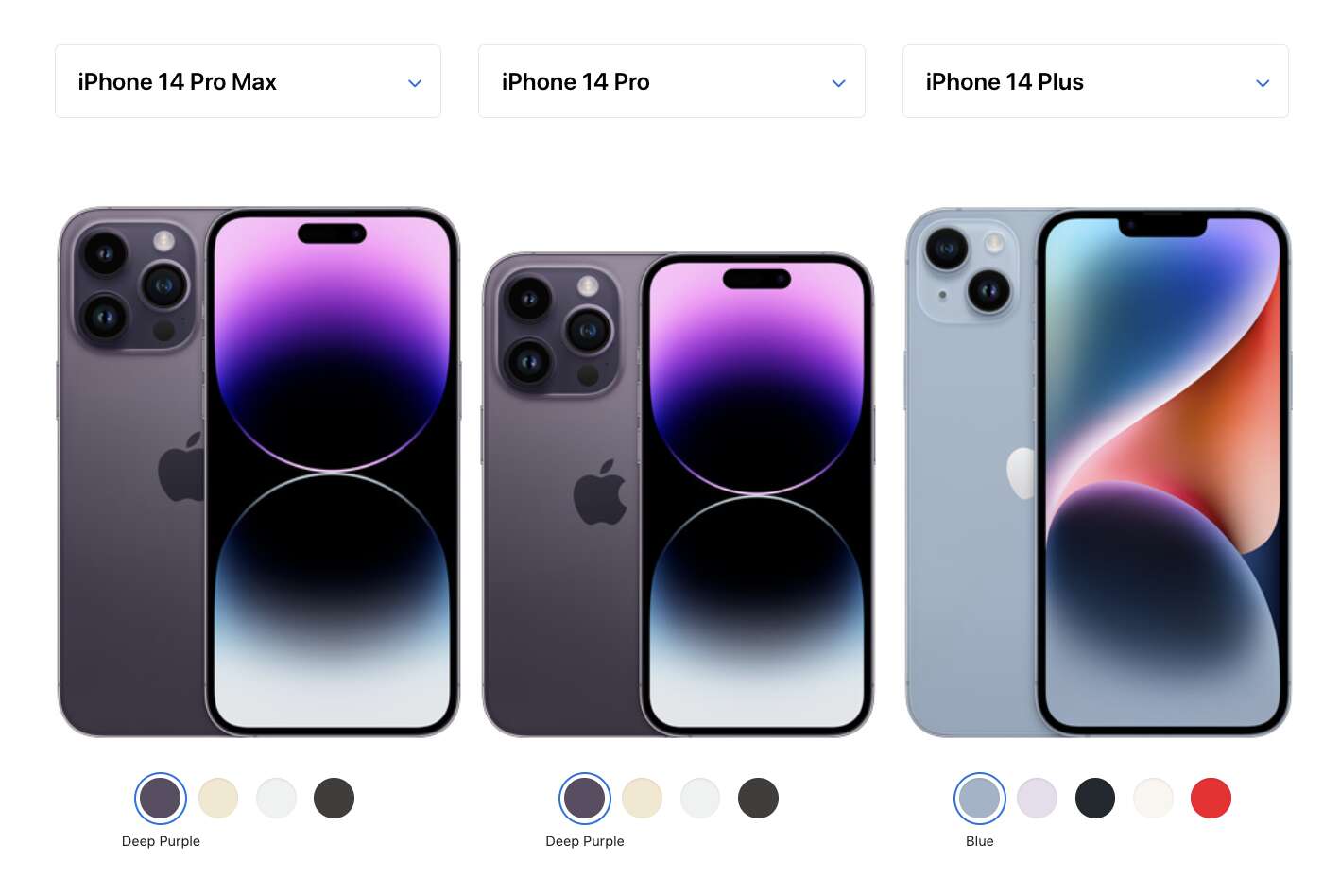 iPhone 14 Pro vs. iPhone 14 Plus vs. iPhone 14 Pro Max
Screen Display
All versions of the iPhone 14 have Super Retina XDR OLED display. iPhone 14 Pro is the smallest with a 6.1-inch diagonal screen. If you prefer smaller smartphones, the Pro version will suit you. iPhone 14 Pro Max and iPhone 14 Plus both have a 6.7-inch diagonal screen display but the Pro versions have the Dynamic Island and ProMotion technology.
Camera
iPhone 14 Pro and Pro Max both a triple-camera feature (48MP main cameras with 12MP Ultra Wide and 12PM Telephoto features) while iPhone 14 Plus has only two cameras (12MP for Main and Ultra Wide). The pro versions are excellent for photography and cinematography lovers. They have Telephoto cameras with Night Mode Portraits, ProRAW, LiDAR Scanner, ProRes video recording up to 4K at 30 fps, and Macro video recording (slow-mo and time-lapse).
Battery Life
The most extended battery life in an iPhone ever that lasts up to 29 hours of video playback is what makes the iPhone 14 Pro Max a must-have. That is considerably terrific.
Pro Max is also capable of charging up to 50% in 35 minutes using the 20W adapter or higher.
Splash, Water, and Dust Resistance
All iPhone 14 versions are water-resistant to a depth of 6 meters up to 30 minutes. Even if that's a neat feature, always remember that you should never attempt to charge any wet iPhone.
How much is iPhone 14 in the Philippines?
iPhone 14 128GB – P56,990
iPhone 14 256GB – P63,990
iPhone 14 512GB – P75,990
How much is iPhone 14 Pro Max in the Philippines?
iPhone 14 Pro Max 128GB – P77,990
iPhone 14 Pro Max 256GB – P84,990
iPhone 14 Pro Max 512GB – P96,990
iPhone 14 Pro Max 1TB – P109,990
iPhone 14 Pro Price Philippines in 2022
iPhone 14 Pro 128GB – P70,990
iPhone 14 Pro 256GB – P77,990
iPhone 14 Pro 512GB – P89,990
iPhone 14 Pro 1TB – P102,990
iPhone 14 Plus Price Philippines in 2022
iPhone 14 Plus 128GB – P63,990
iPhone 14 Plus 256GB – P70,990
iPhone 14 Plus 512GB – P82,990
Do Not Miss Reading: