In this page, I'm sharing how I opened my COL Financial account online without going to COL's head office in Philippine Stock Exchange Center in Ortigas. Everyone can do this, too. This is very convenient especially those who are living far away from Manila, those who are from the provinces and those OFWs who reside abroad.
Why I Choose COL Financial?
COL Financial is one of the best online stock brokers in the Philippines. There are other big online trading brokers out there like BPI Trade, Philstocks, First Metro Sec, etc. but I've decided to choose COL Financial because I was impressed with their stock market research and updates. Their company is also listed in the PSE. Besides, I love their EIP program and the availability of Mutual Funds on their platform.
Before you open COL Financial Account:
I recommend you prepare your email address and I suggest you use Gmail simply because it is less spammy. I also suggest you have an active Anti-virus software in your computer because let's face it, you will going to trade and this is like banking. You need to have secured internet transactions at all times. You don't want to be risking your login username and password. I recommend Norton 360 because you will have complete computer + complete internet protection.
COL website uses https and it's already secure but I still recommend using Norton for total online protection for everything that you're doing online.
Prepare for your TIN (Tax Identification Number). If you don't have any yet, you can get TIN online. If you lost your TIN or you forgot it, you can retrieve it here: Verify TIN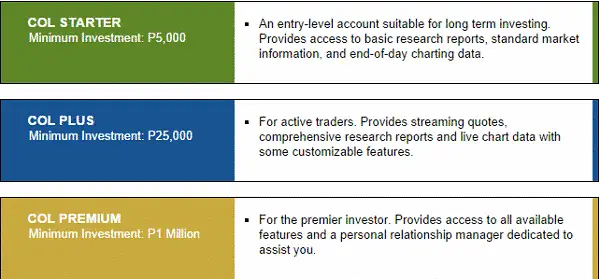 Decide what type of COL account you need to open. Personally, I selected the COL Plus because it has EIP and streamlined features. As an investor, you know you don't only need to grow your funds but your investing skills as well. You can't be on EIP forever, honey.
Procedures
How to Open COL Financial Account Online

:
Step 1: Gather the complete documents required
You will need to fill out the forms and sign them properly. Write in Block letters, meaning all capital letters. Make sure the email address you provide is really yours and you are the only one who use it because this is where COL will contact you regarding your application. All transaction notifications and confirmations regarding your COL account will also be sent in your email address.
COL Financial Account Requirements

:
Download Application Forms (CAIF, OSTA, and Specimen Signature Cards) and print them out.
Photocopy of 1 Government Issued Valid ID
Funds to your COL account (I used BDO online banking)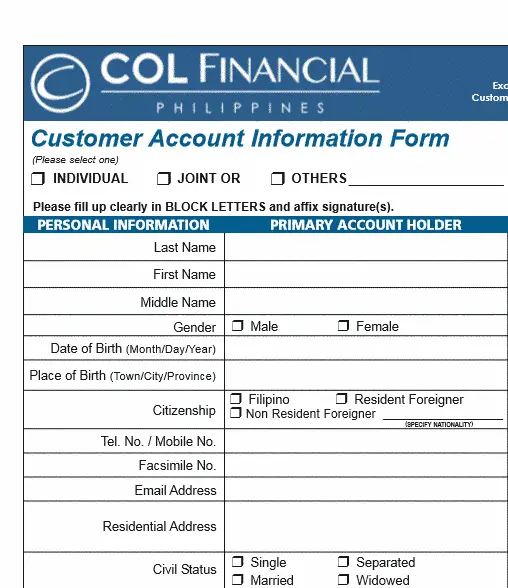 Step 2: Send your documents
Have your documents delivered to COL Financial's address. I used LBC delivery service. COL received my package the next day and they emailed me with the message, "Welcome to COL Financial…." That's the start of it 🙂
Step 3: Fund your account
Make your initial deposit to fund your trading account. I had to make initial deposit of P25,000 to fund my COL Plus account. I used BDO online banking for this. Funds were immediately transferred to my COL account. The complete instructions were discussed here: "How to Fund COL account using BDO Online"
Step 4: Start trading in real time
Finally, COL sent me my log in password and my account was active. I can then trade real time. I logged in my COL account and changed my password. It's always safe when you're the only one who knows it.
How to Open COL Financial Account Abroad

?

If you are living and working overseas, you can also open your COL Financial account by going to any iRemit Branches. COL Financial has partnered with iRemit. Just bring your signed forms and clear copies of your valid IDs and submit them to iRemit.
Other Investment Guides: